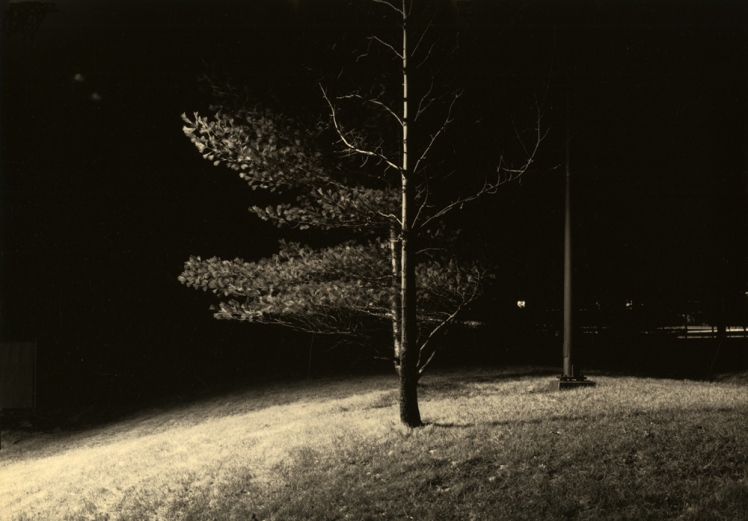 13 Mar 2018
Brian Arnold: Ithaca by Night
Community School of Music and Arts
Reviewed by Arthur Whitman
Ithaca is a college town with a noisy independent culture. Having covered its art for many years, my skepticism for town and gown alike has sharpened. If the campus errs towards spurious intellectualism, downtown suffers insistence on sunny affirmation.
Brian Arnold is a photographer and Cornell researcher. Down the hill, his CSMA show culls from a monochrome series shot in the winters between 2009 and 2013. The fruit of solitary wanderings, they show marginal land surrounding the city's southern commercial strip, territory well known to our homeless.
His display, bare prints stuck to the wall in irregular groups, disserves these compelling images. A framed triptych impresses memory - we see a debris pile, shopping carts in a creek, and an oddly classical landscape of parking lot snow and puddle.
There will always be a need for joyous art. The CSMA can be relied upon to host group shows that reflect its inclusive spirit. Arnold's work here reminds us of other possibilities.
| | |
| --- | --- |
| Exhibition | Brian Arnold: Ithaca by Night |
| Start date | 02 Feb 2018 |
| End date | 30 Mar 2018 |
| Presenter | Community School of Music and Arts link |
| Venue | 330 E. Martin Luther King Jr., Ithaca, NY, USA map |
| Image | Brian Arnold, Untitled, 2010, silver gelatin print toned with selenium and Lipton tea, 10.25 x 13.15 inches, courtesy of the artist |
| Links | Reviews of current exhibitions near this one |
| Share | Facebook, Twitter, Google+ |