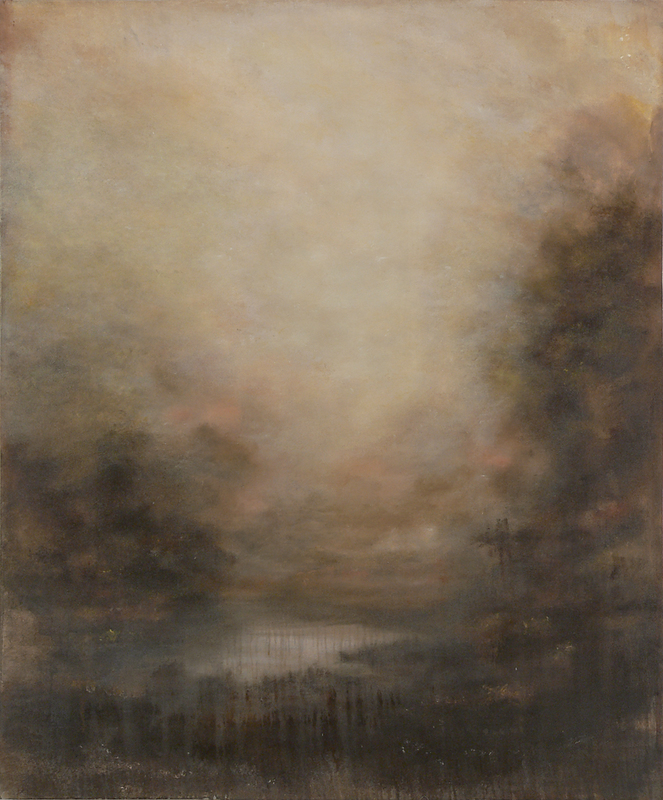 18 Mar 2018
Tom Leaver
McKenzie Fine Art
Reviewed by Harry Newman
Tom Leaver's paintings seem to float. At the border of abstraction and representation, the blurs and smudges of muddied browns, greens, grays, reds, and oranges evoke landscapes - possibly a river in a swamp, a road through a forest, an opening in the woods. Everything is misty and vague, familiar yet disorienting.
The paint is applied lightly, by hand. Streaks of turpentine are visible in the background, suggesting dissolution of the image, if not the painting itself. Rather than work by design, Leaver follows the flow of the paint into the forms that appear. These are as much about surface and the act of painting as nature or place.
Though they have individual titles like Once Again, I – III and Days Like Today, I – IV (all 2017), it's as a whole that they have the biggest impact. Together, the fifteen works, half large canvases, half small wood panels, give the impression of a recurring dream, arriving at the same place again and again to set off to unknown destinations.
| | |
| --- | --- |
| Exhibition | Tom Leaver link |
| Start date | 15 Feb 2018 |
| End date | 18 Mar 2018 |
| Presenter | McKenzie Fine Art link |
| Venue | 55 Orchard Street, New York City, NY, USA map |
| Image | Tom Leaver, Still There, 2017, oil on canvas, 60 x 50 inches, courtesy of McKenzie Fine Art, New York |
| Links | Reviews of current exhibitions near this one |
| Share | Facebook, Twitter, Google+ |