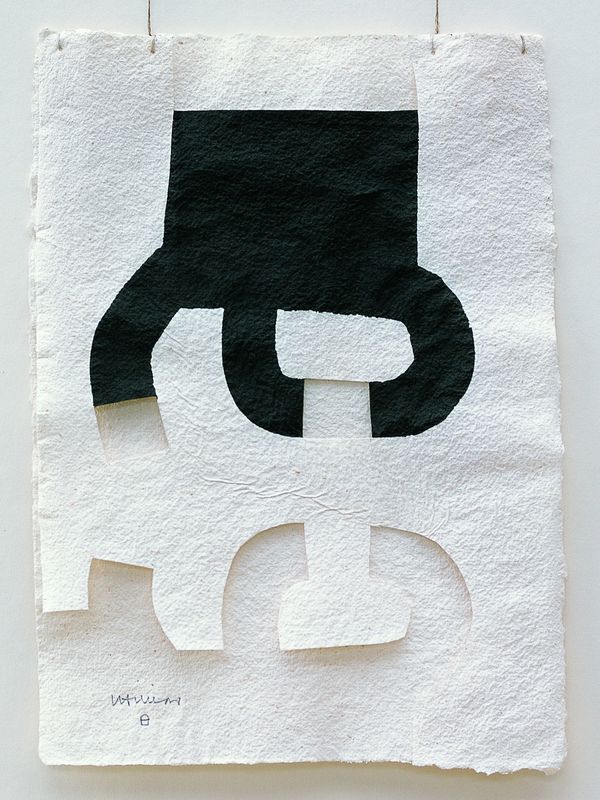 21 Mar 2018
Memory, Mind, Matter: The Sculpture of Eduardo Chillida
Meadows Museum, Southern Methodist University
Reviewed by Tim McClure
The work of Eduardo Chillida is not widely known in the United States outside of the museums, where it has been quietly but energetically collected since the 1950s. But Chillida is perhaps the best known twentieth-century Spanish sculptor in Europe. The materials in his sculpture and drawings - iron, stone, alabaster, ceramic, and paper - convey a sense of rootedness to the earth, specifically to Chillida's native Basque region of Spain.
Imagery in his work, even in the smaller pieces, is monumental, and it stops just short of explicit meaning. In Mural G-334 (1999), massive, industrial-looking shapes seemingly burned into refractory concrete tiles suggest an ancient wall upon which falls a looming shadow of something primal and inevitable. A recurrent theme is a sense of vastness into which one loses one's sense of self.
The exhibition catalogue, illustrated with fine photographs of the art, is exceptional as an introduction to Chillida's artistic intentions.
| | |
| --- | --- |
| Exhibition | Memory, Mind, Matter: The Sculpture of Eduardo Chillida link |
| Start date | 04 Feb 2018 |
| End date | 03 Jun 2018 |
| Presenter | Meadows Museum link |
| Venue | Southern Methodist University, 5900 Bishop Boulevard, Dallas, TX, USA map |
| Image | Eduardo Chillida, Gravitación. Elogio del agua (Gravitation. In Praise of Water), 1987, ink on paper and thread, © Zabalaga-Leku, ARS, New York / VEGAP, Madrid, 2017, courtesy of the Estate of Eduardo Chillida and Hauser & Wirth |
| Links | Reviews of current exhibitions near this one |
| Share | Facebook, Twitter, Google+ |