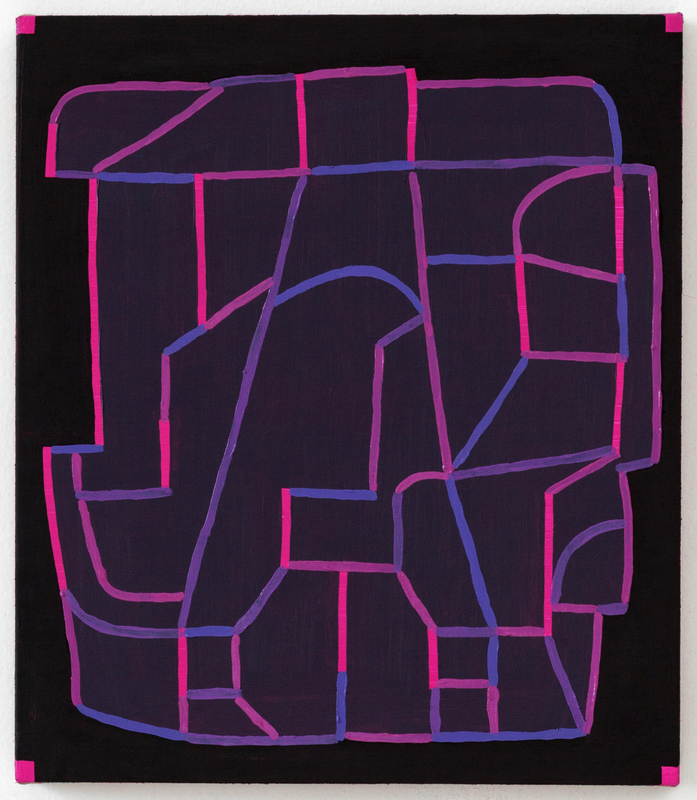 24 Apr 2017
Jason Karolak: Slow Talkers
Devening Projects + Editions
Reviewed by Tom Pekovitch
Reminiscent of classic video games such as Galaga, Centipede, and Space Invaders, an array of minimal geometric compositions glistening with neon colors on matte black backgrounds fill the room in Jason Karolak's "Slow Talkers" at Devening Projects + Editions. Dozens of these modestly sized paintings surround the viewer, radiating the energy of a vintage arcade.
Karolak does something exceptional with his oils. While his flat black surfaces absorb light, the day-glow hues leap forward, calling to mind an LCD screen where the imagery seems to float effortlessly in front of its background. This effect, along with Karolak's manner of addressing basic formal elements, add an alluring complexity to the otherwise easily digestible works.
"Slow Talkers" has the feel of a main menu tune pulled from those games. Within the space, the cyclical theme plays continuously. Over time, different characteristics in the paintings reveal themselves for appreciation.
| | |
| --- | --- |
| Exhibition | Jason Karolak: Slow Talkers link |
| Start date | 02 Apr 2017 |
| End date | 06 May 2017 |
| Presenter | Devening Projects + Editions link |
| Venue | 3039 W Carroll Avenue, Chicago, IL, USA map |
| Image | Jason Karolak, Untitled (P-1662) (2016), oil on linen over panel, 15 × 13 inches, courtesy of Devening Projects + Editions |
| Links | Reviews of current exhibitions near this one |
| Share | Facebook, Twitter, Google+ |