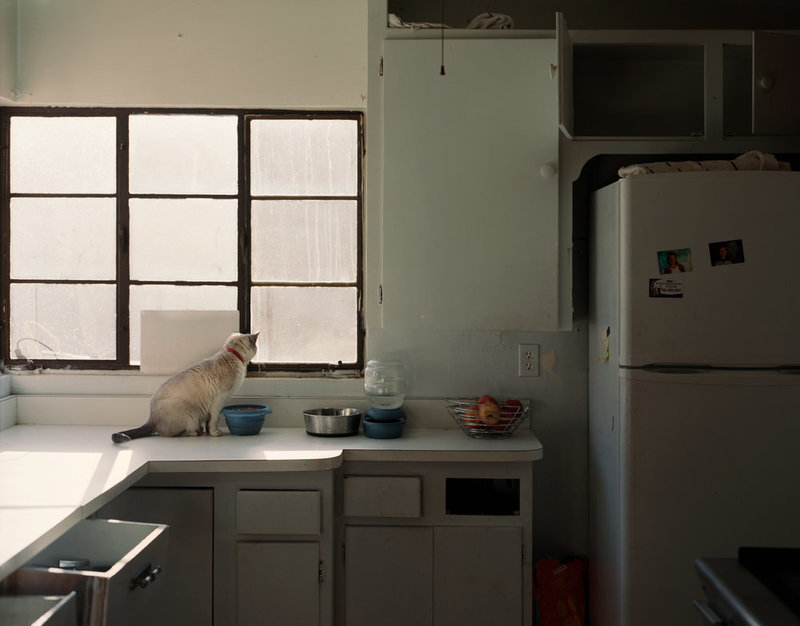 30 Mar 2018
29th Annual Photo Show
State of the Art Gallery
Reviewed by Arthur Whitman
Nodding at photography's place in local art - ubiquitous yet apart - the SOAG hosts a photo exhibit in addition to their annual juried open show. Their latest plays familiar, emphasizing "straight" over artsy.
There are several strong, immersive, large prints. In George Underwood's digital C-print Cat - Joshua Tree, we join the cat, seated on a kitchen counter, gazing out a hazy window. Anne Dunford's grainy, black-and-white Carnival Man portrays an elderly Japanese seated in his matsuri booth, with his baseball hat and cigarette, and shelves of kitsch keepsakes.
Mixed media and abstracted prints offer sensual kick to a mostly quiet show. Inkjet prints by Ron Faris transmogrify bird flocks into heady liquescence while tall ones by Jari Poulin subject her signature dancers to Pop color.
Also rich are Laura Harrington's Holga monochrome Late Summer, a childhood dream, and Earl Middleton's Eclipse, 2017, its burnt-orange crescent puncturing a blur of cool-gray air.