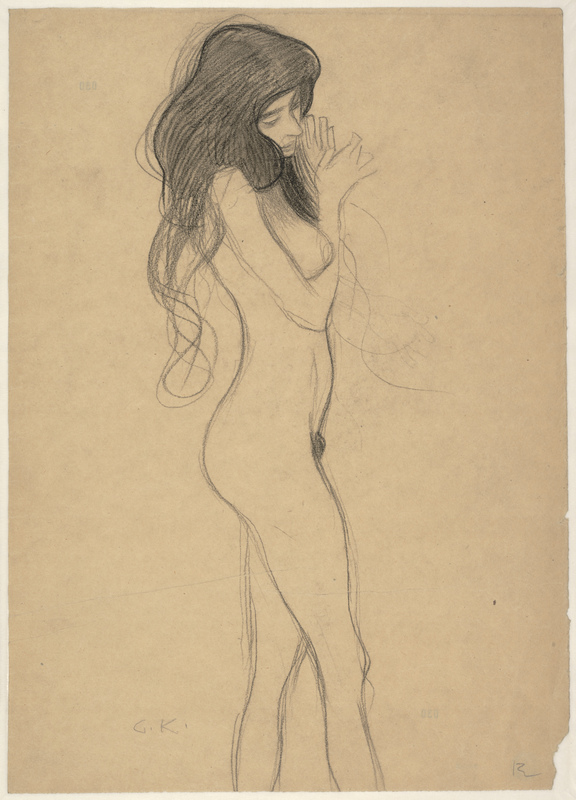 06 Apr 2018
Klimt and Schiele: Drawn
Museum of Fine Arts, Boston
Reviewed by David Curcio
Gustav Klimt drew snaking lines that wend silently around the sheet as if of their own accord, creating curves and warm hollows, ruffling hair and defining pubic patches in loops like the path of a blind animal. Yet his figure studies are too authoritative to capitulate wholly to eroticism.
Egon Schiele, the world's first punk, was 28 years Klimt's junior - the same number of years he was to live before dying of Spanish Flu with his pregnant wife. His studio was a gathering place for delinquent youths. A charge of seducing a minor and exhibiting smut accessible to children lead to many of his drawings being seized and destroyed. The judge even burned one in court.
"Klimt and Schiele: Drawn" at the MFA brings a hundred drawings from the Albertina in Vienna by the Byzantine decadent and his obstinate protegé, the latter who seemed to know that he was not long for this world, and answered by producing writhing, angular nudes, eternally mangled, sickly, disabled.
| | |
| --- | --- |
| Exhibition | Klimt and Schiele: Drawn link |
| Start date | 25 Feb 2018 |
| End date | 28 May 2018 |
| Presenter | Museum of Fine Arts, Boston link |
| Venue | 465 Huntington Avenue, Boston, MA, USA map |
| Image | Gustav Klimt, Standing Female Nude (Study for the Beethoven Frieze: The Three Gorgons), 1901, courtesy of the Museum of Fine Arts Boston |
| Links | Reviews of current exhibitions near this one |
| Share | Facebook, Twitter, Google+ |