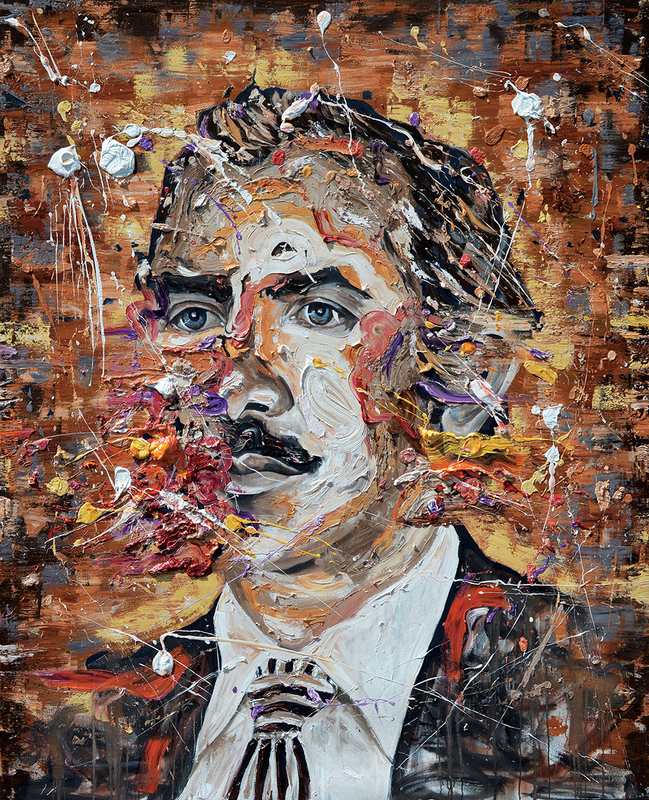 18 Apr 2018
William Osorio: Inside Out
LnS Gallery
Reviewed by Elisa Turner
With oil paint slammed and swirled, clotted and knotted, the pictures of William Osorio put painterly storm and stress on display. His works are violently fragmented and visceral - angry art for angry times.
Expressionist impasto is king, nodding to Lucian Freud, Jenny Saville, and Francis Bacon. The howling Study for a Scream I (all works are 2017) and fierce Study for a Scream II recall Bacon's shrieking popes, though without his obsessively revised nuances. Drips and splatters explode from Id, Ego and Superego, amid five heavily lidded eyes. A head and neck are barely visible in the murky composition left by this rampage of paint.
While still jabbed with vivid gobs and streaks, Reminiscence is a respite. It's based on a family photo. Swirls of white paint, akin to soothing gel, caress cheek and chin. The portrait looks back, or perhaps forward, to greater civility. Likewise, the fascist mob conjured in The Crowd is relieved by a few strangely clear eyes.
| | |
| --- | --- |
| Exhibition | William Osorio: Inside Out link |
| Start date | 27 Mar 2018 |
| End date | 05 May 2018 |
| Presenter | LnS Gallery link |
| Venue | 2610 SW 28th Lane, Miami, FL, USA map |
| Image | William Osorio, Reminiscence, 2017, oil on canvas, 96 x 78 inches, courtesy of LnS Gallery |
| Links | Reviews of current exhibitions near this one |
| Share | Facebook, Twitter, Google+ |