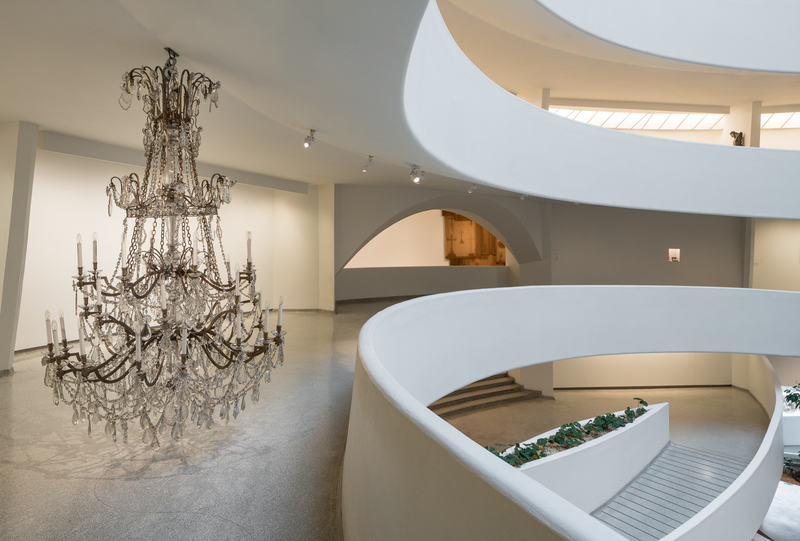 18 Apr 2018
Danh Vo: Take My Breath Away
Solomon R. Guggenheim Museum
Reviewed by Jan Castro
"Take My Breath Away" juxtaposes cultural symbols in unfamiliar ways to show the legacies of French and American colonialism in Vietnam. Danh Vo stacks a vintage refrigerator, TV, and washing machine into a kind of totem honoring the Western benefits his refugee family received in Denmark. Fragments of Greco-Roman and Vietnamese sculpture, his father's Rolex, tools, photos, and a poignant obituary notice for his grandmother also make appearances.
Robert McNamara's hubristic letter to Robert F. Kennedy and three colossal chandeliers he owned highlight the degree to which those who escalated the Vietnam War profited from it. Viewers are supposed to figure out that war loots or destroys cultural treasures. The ironic exhibition title could suggest either "thrill me" or "kill me."
The catalogue cover pictures a letter from a French Catholic missionary about to be beheaded in Vietnam. What better proof that there are no winners in cultural wars?
| | |
| --- | --- |
| Exhibition | Danh Vo: Take My Breath Away link |
| Start date | 09 Feb 2018 |
| End date | 09 May 2018 |
| Presenter | Solomon R. Guggenheim Museum link |
| Venue | 1071 Fifth Avenue, New York City, NY, USA (between 88th and 89th streets) map |
| Image | Installation view: Danh Vo: Take My Breath Away, Solomon R. Guggenheim Museum, New York, photo: David Heald, © Solomon R. Guggenheim Foundation, 2017 |
| Links | Reviews of current exhibitions near this one |
| Share | Facebook, Twitter, Google+ |