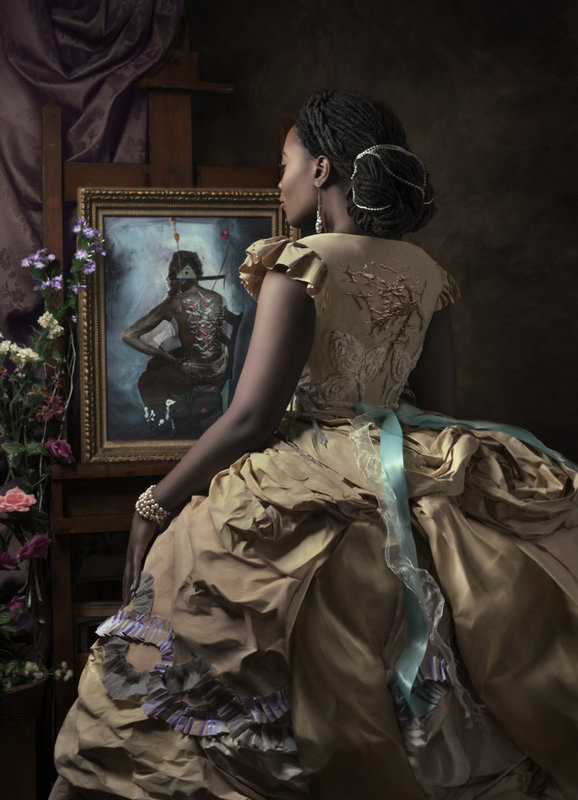 21 Apr 2018
Bordering the Imaginary: Art from the Dominican Republic, Haiti, and their Diasporas
BRIC
Reviewed by Harry Newman
Nationalism is turned inside-out in "Bordering the Imaginary," a show of artists from the Dominican Republic, Haiti, or of Dominican or Haitian descent in the US. Their work reimagines the histories and cultures of the island of Hispaniola beyond the boundaries of language, race, or country that divide it today.
In some cases, this is literal, as in Pascal Meccariello's Mapping on Broken History (2017), where the map of the island has been broken into pieces and reassembled in frames under texts from children's history books of both countries. In others, the rearrangement is metaphoric, as in Fabiola Jean-Louis's brilliant photographs Madame Beauvoir's Painting (2016) and Marie Antoinette is Dead (2018), which place black women at the heart of the effort to overturn colonialism.
Art from Haiti and the Dominican Republic is rarely shown together. Doing so is itself a challenge to nationalism, suggesting possibilities - cultural, social, and political - of imagination freed.
| | |
| --- | --- |
| Exhibition | Bordering the Imaginary: Art from the Dominican Republic, Haiti, and their Diasporas link |
| Start date | 15 Mar 2018 |
| End date | 29 Apr 2018 |
| Presenter | BRIC link |
| Venue | 647 Fulton Street, Brooklyn, NY, USA map |
| Image | Fabiola Jean-Louis, Madame Beauvoir's Painting, 2018, photograph, courtesy of BRIC |
| Links | Reviews of current exhibitions near this one |
| Share | Facebook, Twitter, Google+ |