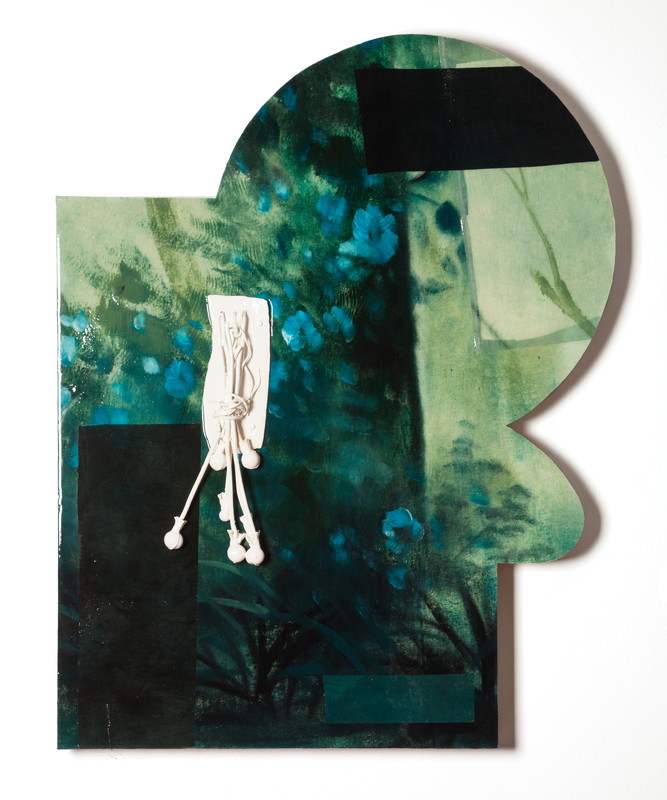 27 Apr 2018
Christopher Frost: Winter
Boston Sculptors Gallery
Reviewed by Franklin Einspruch
The inventiveness of the art of Christopher Frost has all but invented its way out of the category of sculpture. These accomplished, hard-fought, surprising works at Boston Sculptors Gallery are gripping in their effect.
Case in point is Moruroa Lemon Drop (2018). The support is a union of circle, oval, and rectangle. Upon this Frost has painted a subfusc landscape of azure flowers, with abstract punctuations of hard-edge shapes. He has clear-coated the surface with so much gloss that you can see your reflection in it. To this construction he has appended a ceramic rendition of a bundle of mahl sticks, glazed white. The conjunction of form, subject, and tool captures the profound joy of making art when it's going well.
It's as if the possibilities of sculpture, which are infinite, were nevertheless not capacious enough for Frost's vision. To accommodate it he found a personal way to incorporate painting, and the two-and-a-half-dimensional results are heavy with visual poetry.
| | |
| --- | --- |
| Exhibition | Christopher Frost: Winter |
| Start date | 04 Apr 2018 |
| End date | 06 May 2018 |
| Presenter | Boston Sculptors Gallery link |
| Venue | 486 Harrison Avenue, Boston, MA, USA map |
| Image | Christopher Frost, Moruroa Lemon Drop, 2018, glazed ceramic and mixed media, 52 x 41 x 6 inches, photo by Bruce Rogovin, courtesy of the artist |
| Links | Reviews of current exhibitions near this one |
| Share | Facebook, Twitter, Google+ |