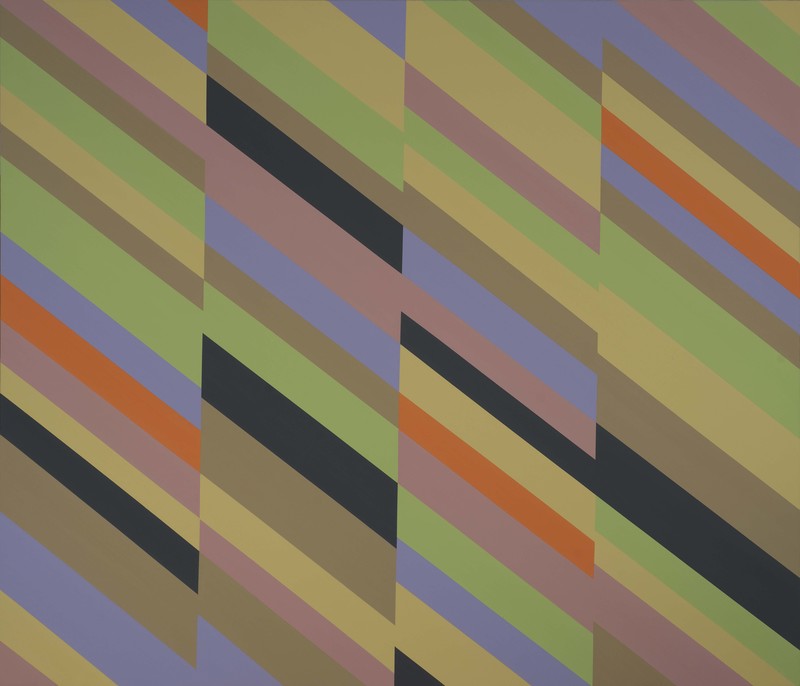 03 May 2018
James Little: Slants and White Paintings
June Kelly Gallery
Reviewed by Jill Nathanson
Considerations of their beauty aside, James Little's new paintings move his demonstrated understanding of color one step ahead. His Slants series breaks diagonal bands into four columns and nudges them out of register. Each painting feels like it has a pattern, albeit a broken one. Bars of intense color move diagonally, simultaneously stopped and continuing across columns. Every area of the painting has a unique color structure, while areas mesh to become a whole.
In the large Re-Set (2017), bright colors are punctuated by near-blacks that extend the range of values. These darks have more weight than the other hues, but held in the irregular pattern, they cannot take over as they might, thus adding tension.
In the Slants, one seeks logic but the movement of intense colors, becoming painting-light, doesn't allow for analytics. Instead they further condense the color energies that Little has engaged with throughout his career.
| | |
| --- | --- |
| Exhibition | James Little: Slants and White Paintings link |
| Start date | 12 Apr 2018 |
| End date | 15 May 2018 |
| Presenter | June Kelly Gallery link |
| Venue | 166 Mercer Street, New York City, NY, USA map |
| Image | James Little, Re-Set, 2017, oil and wax on canvas, 64 x 74 inches, courtesy of June Kelly Gallery |
| Links | Reviews of current exhibitions near this one |
| Share | Facebook, Twitter, Google+ |