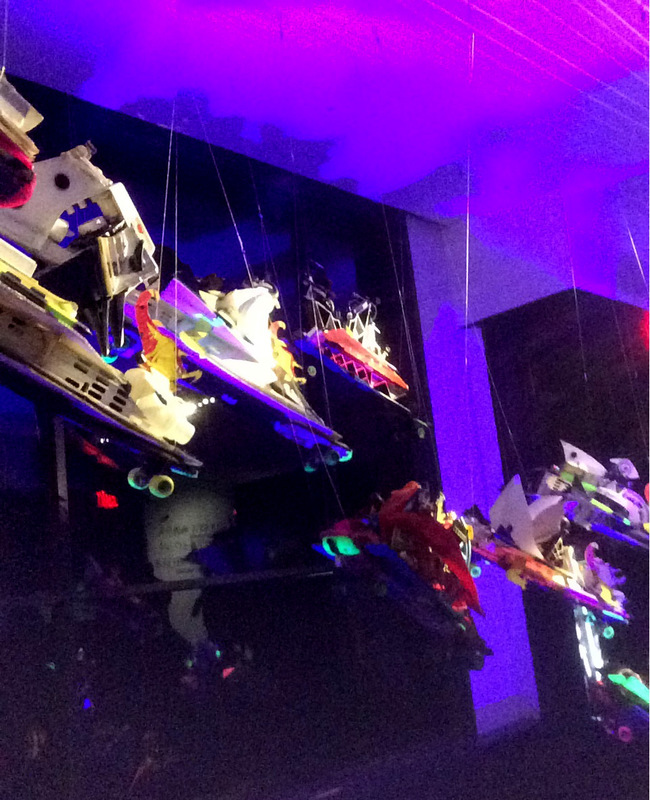 12 May 2018
RAMMΣLLZΣΣ: Racing for Thunder
Red Bull Arts New York
Reviewed by William Corwin
Rammellzee envisioned a galactic struggle between the letters of the alphabet that would redefine the nature of language. The battalion of Letter Racers, each a distinctive starship built of found objects on a skateboard substrate, swoops down in formation as the centerpiece of this ecstatic retrospective.
The word was the beginning for Rammellzee. A Medieval manuscript starts the journey through a miasma of phantasmagorical costumes, Day-Glo pigments, luminous spray paintings, and grainy hip-hop performance footage. Key for the artist's Gothic Futurism were the gilt, illuminated letters in that book, characters granted independence by the monks who painted them. Those symbols became the Letter Racers, robotic, interstellar mechanisms of unchained communication.
Ramm was the prophet and caretaker of these rebellious angels of sound, and he dressed the part. The blacklight-lit subterranean level displays his Voltron-Transformer-comic book villain-monastic performance gear.