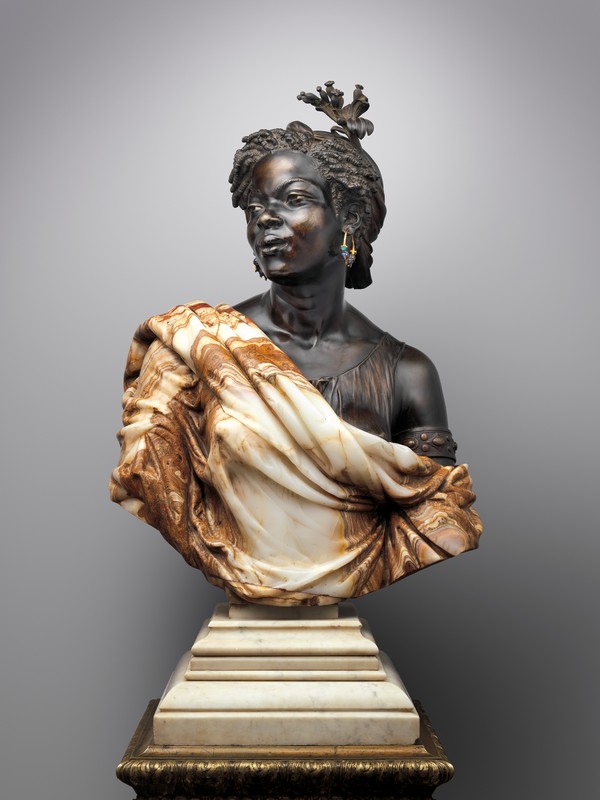 14 May 2018
Like Life: Sculpture, Color, and the Body (1300 - Now)
Met Breuer
Reviewed by Jan Castro
"Like Life" is a subversive exhibition about Western civilizations since 1300, and the Metropolitan Museum's lead here is notable. Although Greek and Roman carvings were originally painted colorfully, few exhibitions (if any) have pointed out how the systematic favoring of white sculpture since the Renaissance connects to racial and gender biases and to notions of beauty.
The 117 well-chosen works examine how scale, materials, processes, color, themes, and degrees of likeness affected viewers' receptions, both when they were created and today. In one room, dark-skinned sculptures, including a wind-up flute player (c. 1870), mimic historically servile roles.
Another room of horizontal figures includes a coffin with John F. Kennedy barefoot in a suit, next to the voluptuous mistress of Louis XV, whose heaving breast titillates. Across from her, Paul McCarthy's self-portrait in a lawn chair, nude from the waist down, adds a layer of grossness.
| | |
| --- | --- |
| Exhibition | Like Life: Sculpture, Color, and the Body (1300 - Now) link |
| Start date | 21 Mar 2018 |
| End date | 22 Jul 2018 |
| Presenter | Met Breuer link |
| Venue | 945 Madison Avenue, New York City, NY, USA (at 75th Street) map |
| Image | Charles-Henri-Joseph Cordier, La Capresse des Colonies, 1861, Algerian onyx, marble, bronze and gilt bronze, and enamel, white marble socle, overall on socle (confirmed) 37 3/4 x 23 1/4 x 12 1/4 inches, courtesy of the Metropolitan Museum of Art |
| Links | Reviews of current exhibitions near this one |
| Share | Facebook, Twitter, Google+ |