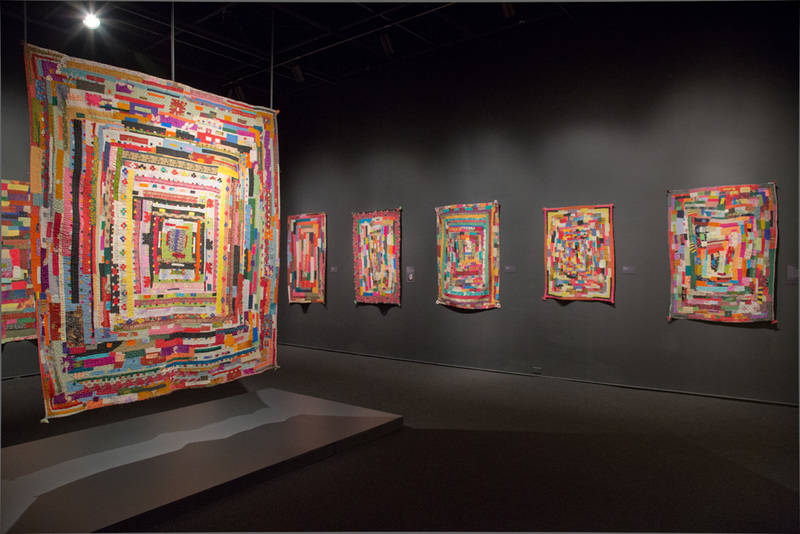 15 May 2018
Soulful Stitching: Patchwork Quilts by Africans (Siddis) in India
Davis Museum, Wellesley College
Reviewed by Franklin Einspruch
It testifies to the power of abstraction that even an arrangement built according to handful of simple rules - start with a rectangle, append rectangles to its sides, expand outward with more appended rectangles, and repeat until you have a blanket - can produce such a variety of interesting and charming results. It testifies to the depth of abstraction that even within those simple rules, some of the works produced thus are better than others.
The work in question is a collection on display at the Davis of modern kawandi. These are patchwork quilts produced by the Siddis, who descended from Bantus brought to India by Portuguese slavers. The works incorporate African design while taking advantage of Indian coloration and patternmaking.
The best of them, with their vibrant geometries, would have made Hans Hofmann's eyes water with envy. Their emphatic concentricity is entrancing and meditative, while their handmade unruliness is comforting. Spotlit in a dark gallery, they pop.
| | |
| --- | --- |
| Exhibition | Soulful Stitching: Patchwork Quilts by Africans (Siddis) in India link |
| Start date | 13 Feb 2018 |
| End date | 10 Jun 2018 |
| Presenter | Davis Museum link |
| Venue | Wellesley College, 106 Central Street, Wellesley, MA, USA map |
| Image | Soulful Stitching: Patchwork Quilts by Africans (Siddis) in India, installation view, courtesy of the Davis Museum |
| Links | Reviews of current exhibitions near this one |
| Share | Facebook, Twitter, Google+ |