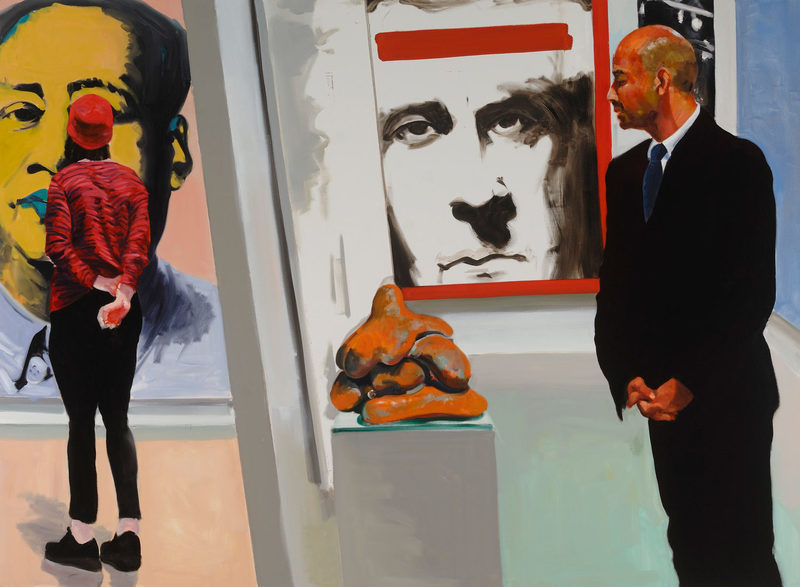 29 May 2018
Eric Fischl: If Art Could Talk
Dallas Contemporary
Reviewed by Tim McClure
Around 1980, a number of artists interested in figuration emerged in the US. One of them, Eric Fischl, painted disconcerting scenes of life behind American suburbia's cheerful exterior. Those paintings made him a star.
Later, Fischl produced several series of visual chortles and grimaces at the foibles of people in the social milieus he encountered. His Dallas Contemporary show consists largely of paintings from the Art Fair series, snapshot satires of the international art scene. Art Fair: Booth #16 Sexual Politics (2014) is aesthetically the most convincing of them. The composition, with figures in black in front of works of Pop, recalls Motherwell's Spanish Elegy paintings. Skewed planes notwithstanding, the painting has a pleasing balance.
But in all, the Art Fair paintings are unadventurous one-liners by an artist who has apparently settled into a comfortable formula, trading on his place in a sphere he disparages as mostly vapid and pretentious. Arrival equals prison.
| | |
| --- | --- |
| Exhibition | Eric Fischl: If Art Could Talk link |
| Start date | 12 Apr 2018 |
| End date | 26 Aug 2018 |
| Presenter | Dallas Contemporary link |
| Venue | 161 Glass Street, Dallas, TX, USA map |
| Image | Eric Fischl, Art Fair: Booth #16 Sexual Politics, 2014, oil on linen, 82 x 112 inches, courtesy of the artist |
| Links | Reviews of current exhibitions near this one |
| Share | Facebook, Twitter, Google+ |