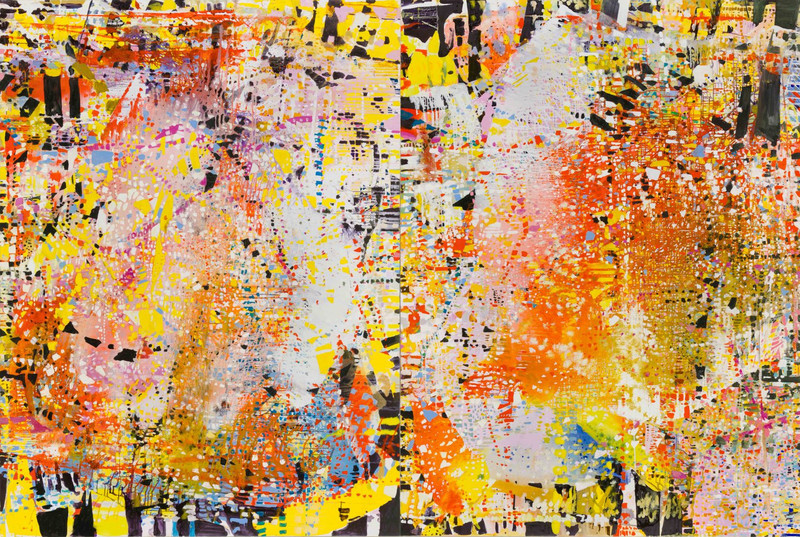 27 Apr 2017
Jackie Saccoccio
11R
Reviewed by Franklin Einspruch
The paintings in her current exhibition at 11R are a step up even for the magnificent Jackie Saccoccio. Yellows have burned away the blacks, infusing her canvases with visual fire. In their marriage of perception-bending complexity with a gridlike structural heft, they would likely hold their own on the wall next to an El Anatsui. They are at least in that class of upper-tier material.
The front gallery features works in fluid paint on Yupo that I'm less convinced about. They're entitled Portrait #1 (Joan) and Portrait #11 (Helen) and the like. While Mitchell and Frankenthaler would certainly bless this production, these thin efforts pale in comparison, literally, to the oils on linen in the back gallery.
There among other mighty works is Apocalypse Confetti, which lives up to its title as a barely-controlled detonation of countless, minuscule units of warm color. But like the Biblical one there are signs of a singular command behind it, marshaling chaos into order.
| | |
| --- | --- |
| Exhibition | Jackie Saccoccio link |
| Start date | 30 Mar 2017 |
| End date | 30 Apr 2017 |
| Presenter | 11R link |
| Venue | 195 Chrystie Street, New York City, NY, USA map |
| Image | Jackie Saccoccio, Apocalypse Confetti, 2017, oil and mica on linen, 108 x 158 inches, courtesy of 11R |
| Links | Reviews of current exhibitions near this one |
| Share | Facebook, Twitter, Google+ |