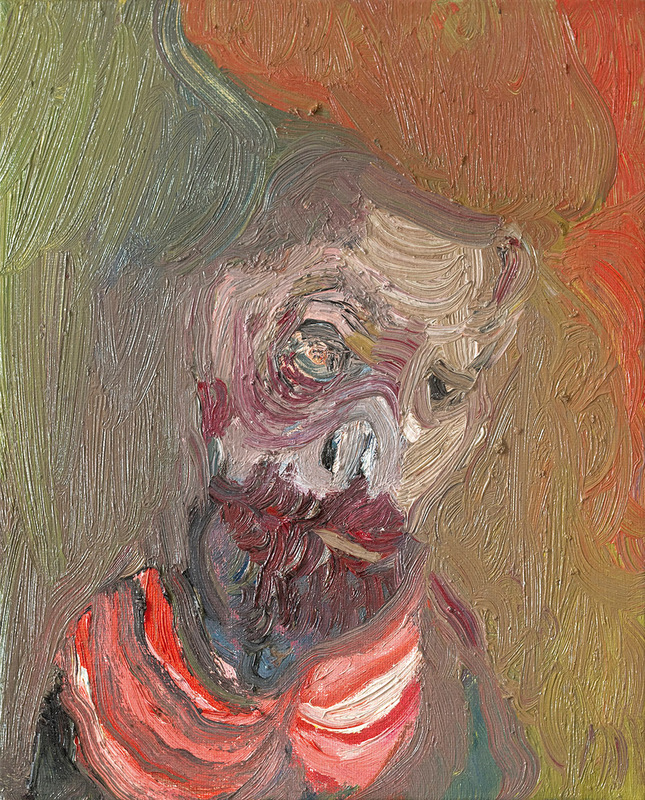 11 Jun 2018
Trude Viken
Fortnight Institute
Reviewed by Suzanne Unrein
Through virtuoso brushstrokes, scrapes, and smears in Trude Viken's exhibit of self-portraits and couples, hidden emotional states ooze externally. Thick pigments sculpt monstrous faces in unearthly, ashen umbers with shocks of yellows, reds, and pinks. The paint is urgent and frenetic in Ensor-esque proportions.
A hundred twelve-inch canvases make up the Diary Notes series, a visual daybook of the clandestine side of the human psyche. Painted with deftness, the horrific and impotent connect through tantalizing smirks and penetrating stares. Slits of human eyes beckon for understanding as whirls of thick paint obliterate surrounding features. A head slips down a picture frame, losing its footing among a sea of acidic, calamitous, green-gray marks that offer a lifeline.
In Couples and Ghosts, anxiety is heightened with twosomes melding together in otherwise roomy compositions. Only their dissolution offers a respite from their neediness and angst.
| | |
| --- | --- |
| Exhibition | Trude Viken |
| Start date | 16 May 2018 |
| End date | 17 Jun 2018 |
| Presenter | Fortnight Institute link |
| Venue | 60 East 4th Street, New York City, NY, USA map |
| Image | Trude Viken, Diary Notes, 2018, oil on canvas, 11.81 x 9.45 inches, courtesy of Fortnight Institute |
| Links | Reviews of current exhibitions near this one |
| Share | Facebook, Twitter, Google+ |