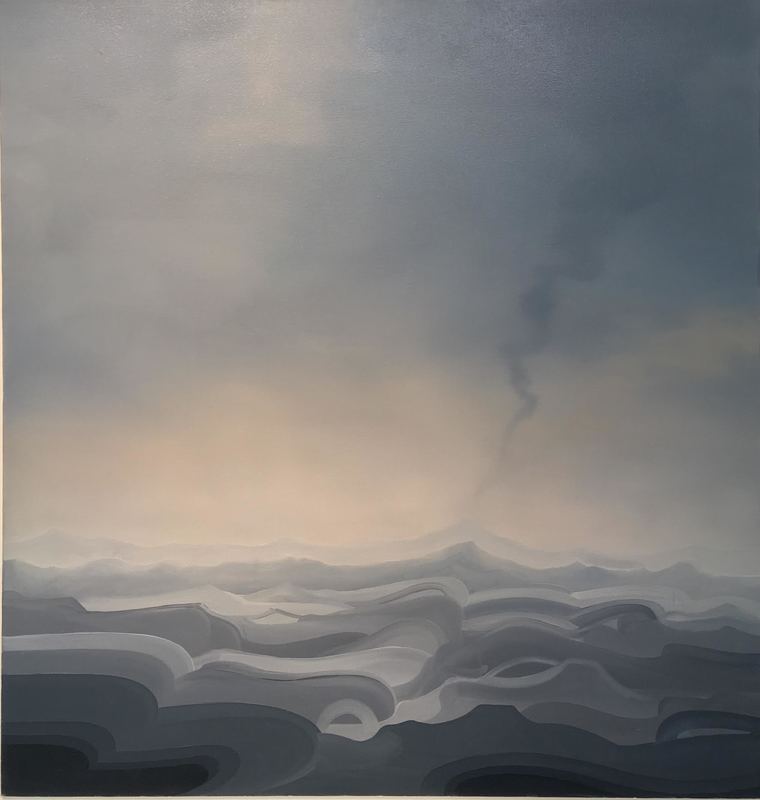 13 Jun 2018
Unreal Estate: Doug Henders & Jeff Quinn
Kabinett
Reviewed by Franklin Einspruch
The aptly named exhibition "Unreal Estate" crowds paintings by Doug Henders and Jeff Quinn into the space at Kabinett. They are a sensible match. Each artist plucks methods from unrelated styles and remixes them into a new project.
Quinn's landscapes combine naturalistic elements with a stripe-driven rendering technique in which forms are described in carefully adjusted bands of value or color. His RISDoid craftsmanship is evident. (Full disclosure: I went there too.) Sentence (2018) is particularly interesting, with a geometric waterfall into which another work, Plume (also 2018), has been forlornly abandoned.
Henders has, among other things, executed works on dot-screen patterns that have been printed on canvas. The painted portions go down in pieces separated by a scribble that has been enlarged and used as a dividing mechanism. Some of these intrigue, others collapse. The sense of adventure is worth noting. That goes for Quinn as well, and the gallery itself.
| | |
| --- | --- |
| Exhibition | Unreal Estate: Doug Henders & Jeff Quinn |
| Start date | 06 Apr 2018 |
| End date | 30 Jun 2018 |
| Presenter | Kabinett link |
| Venue | 450 Harrison Avenue #29, Boston, MA, USA map |
| Image | Jeff Quinn, Plume, 2018, oil on canvas, 40 x 42 inches, courtesy of Kabinett |
| Links | Reviews of current exhibitions near this one |
| Share | Facebook, Twitter, Google+ |