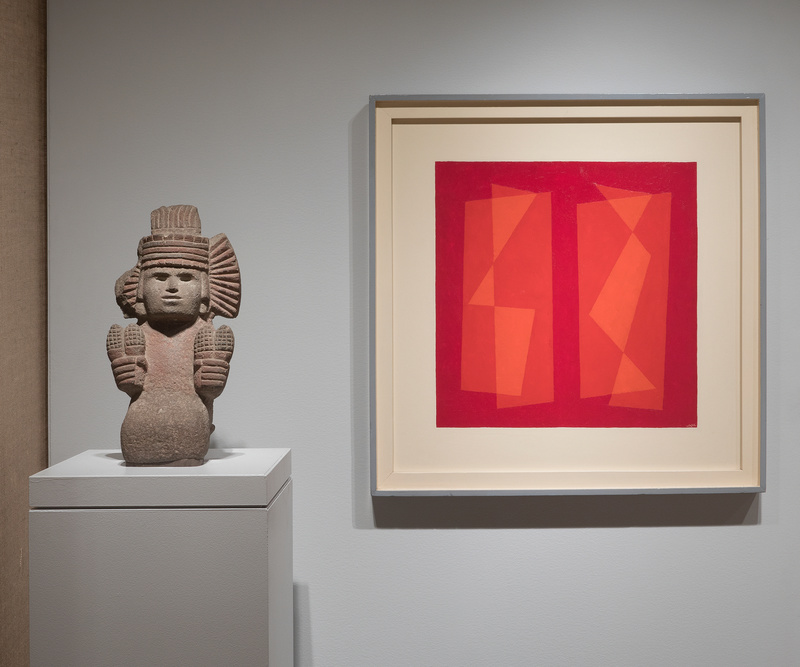 01 May 2017
Small-Great Objects: Anni and Josef Albers in the Americas
Yale University Art Gallery
Reviewed by Ashley Norwood Cooper
Josef and Anni Albers' influence on modernism has been immeasurable, but their art can seem cold and impersonal. This exhibit, which intersperses the artists' own work with pieces from their collection of Pre-Colombian art, shows them in a different light.
Anni Albers collected Peruvian tapestries. She called their weavers "the great teachers" and the awe that she felt for them is apparent in the weavings she made using the skills they taught her. Josef Albers's sketches of Mexican figurines are playful and sweet. His "Homage to the Square" paintings take on a glowing spirituality alongside the ancient art.
The Alberses believed that the principles of design were universal and art could build a bridge across cultures. While this way of thinking may seem suspect today, the love that the Alberses felt for the artists they collected radiates in this show. To the spirited debate about cultural appropriation, the Alberses lend an example of appropriation motivated by earnest respect.
Exhibition
Small-Great Objects: Anni and Josef Albers in the Americas link
Start date
03 Feb 2017
End date
25 Jun 2017
Presenter
Yale University Art Gallery link
Venue
1111 Chapel Street, New Haven, CT, USA (at York Street) map
Image
Josef Albers, Cadence, 1940, oil on Masonite, 28 7/16 x 28 3/16 inches, gift of Anni Albers and the Josef Albers Foundation, Inc.; unknown Aztec artist, stone female figure with traces of pigment, 1250-1521, basalt, 17 3/4 x 8 5/8 inches, lent by Yale Peabody Museum of Natural History; installation view courtesy of Yale University Art Gallery
Links

Reviews of current exhibitions near this one

Reviews by Ashley Norwood Cooper

Share
Facebook, Twitter, Google+