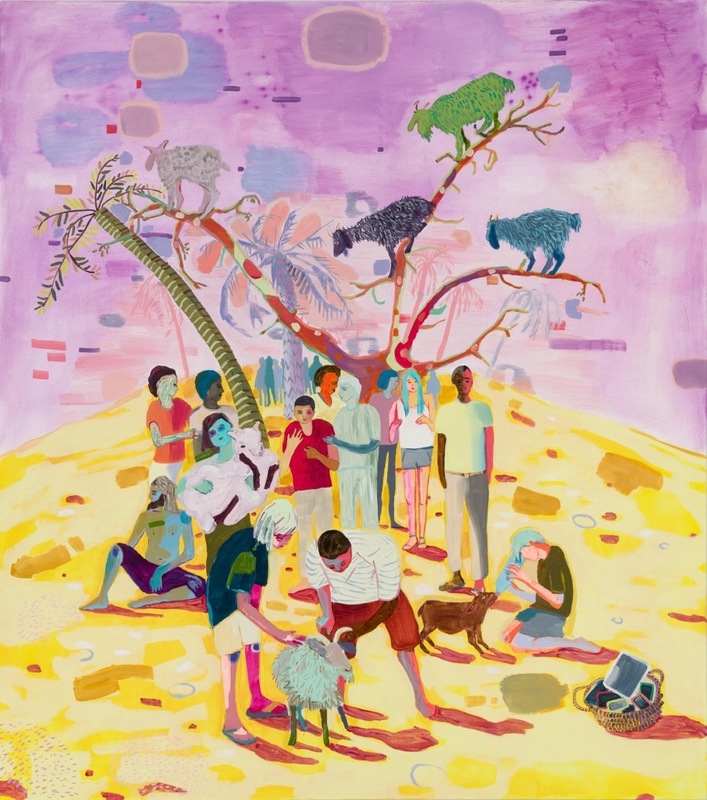 19 Jun 2018
Melanie Daniel: Late Bloomers
Asya Geisberg Gallery
Reviewed by Mary Ann Strandell
Melanie Daniel's rainbowtopia paintings of patterned scenarios recall James Ensor's Theatre of Masks from 1908. In the Ensor, costumed revenants prance on a stage of the absurd. Daniel's narrations are theatrical lessons for do-it-yourself survival in a near future of phantasmagoric characters.
Props from hippie colonies figure into the scenes. The sole craftsman of Hothouse Artist (all are 2018) sculpts objects beside a geodesic dome. In Little Eden, a figure dreams near graffiti-ridden rocks under a canopy of palms.
Goat Love in a Digital Age shows the refuge of a band of islanders who coexist with goats that balance on tree limbs under a patchy lavender sky. Their long shadows on the stark yellow ground bind the group to this isolated place. While the artisans in Daniel's worlds relay lessons on how to manage in this imminent future, her fiery compositions and brushwork offer a brilliant chroma that invites the viewer to enter a transformational and inventive makerspace.
| | |
| --- | --- |
| Exhibition | Melanie Daniel: Late Bloomers link |
| Start date | 17 May 2018 |
| End date | 23 Jun 2018 |
| Presenter | Asya Geisberg Gallery link |
| Venue | 537b West 23rd Street, New York City, NY, USA map |
| Image | Melanie Daniel, Goat Love in a Digitla Age, 2018, oil on canvas, 54 x 48 inches, courtesy of Asya Geisberg Gallery |
| Links | Reviews of current exhibitions near this one |
| Share | Facebook, Twitter, Google+ |