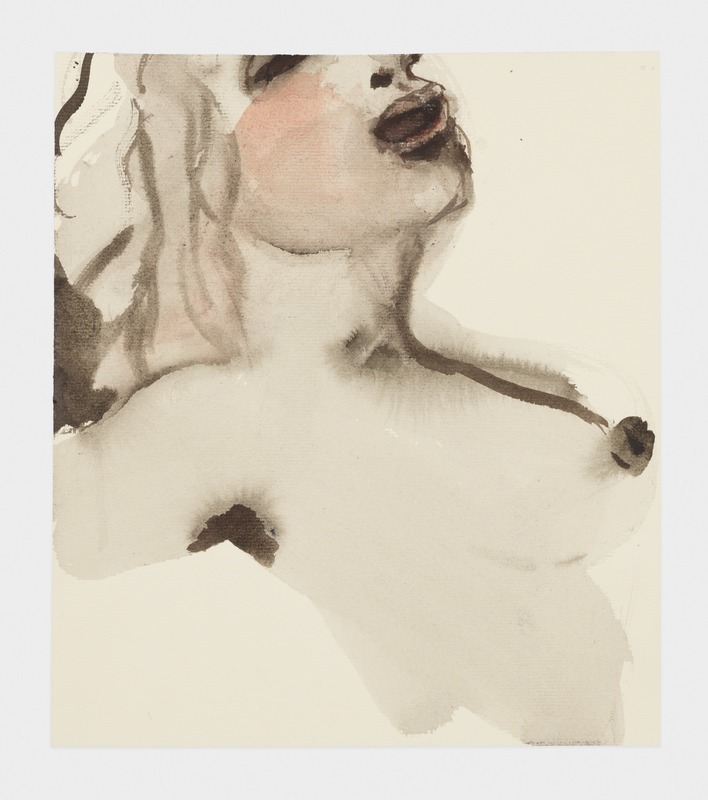 23 Jun 2018
Marlene Dumas: Myths & Mortals
David Zwirner
Reviewed by Suzanne Unrein
Marlene Dumas is at the top of her game at Zwirner with pictures, some of them monumental, of voyeuristic intimacies. Painted thinly in oil, they are ephemeral and disturbing.
The large-scale canvases are around 118 x 39 inches, creating confined, coffin-like spaces for full-length figures. These portraits of vulnerability throw a gut punch. In Spring (2017) a woman, her face in shadow, pours liquid down her crotch. Her black panties cut into her rust-red legs as she balances over a lime-green stage in front of a bleak background.
In Awkward (2017) a couple stands uncomfortably toe-to-toe. Red edges force them together while the white negative space between them creates compositional tension. Their blue color makes the encounter feel powerful but fleeting.
Near the back of the show are wet-on-wet ink washes illustrating a recent edition of Shakespeare's Venus & Adonis. Dumas is in her element with the tragedy and tenderness of unrequited love.
| | |
| --- | --- |
| Exhibition | Marlene Dumas: Myths & Mortals link |
| Start date | 28 Apr 2018 |
| End date | 30 Jun 2018 |
| Presenter | David Zwirner link |
| Venue | 525 and 533 West 19th Street , New York City, NY, USA map |
| Image | Marlene Dumas, Venus in bliss, 2015-2016, © Marlene Dumas, courtesy of David Zwirner, New York/Hong Kong |
| Links | Reviews of current exhibitions near this one |
| Share | Facebook, Twitter, Google+ |