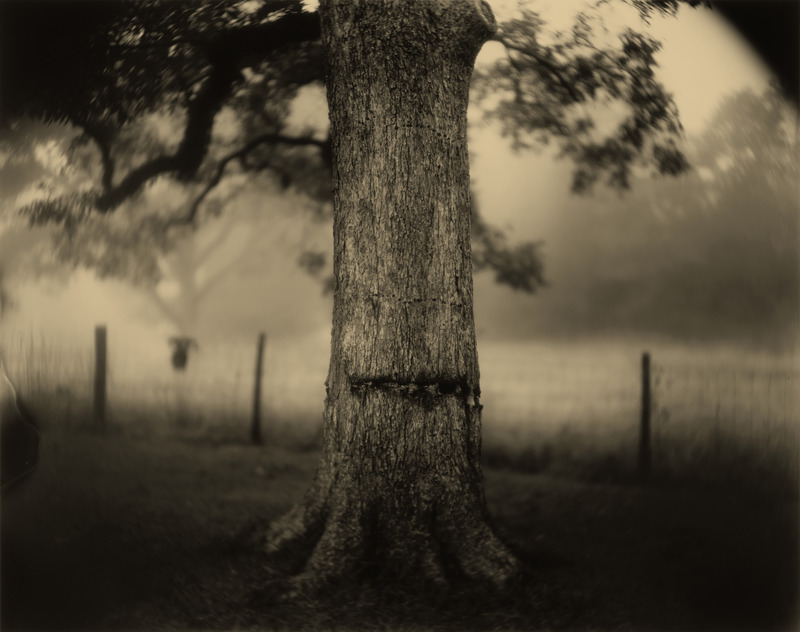 02 Jul 2018
Sally Mann: A Thousand Crossings
Peabody Essex Museum
Reviewed by Jonathan Simcosky
Sally Mann, who received no formal training yet is one of the United States' most distinguished photographers, is perhaps most famous for inflaming America's culture wars with tender portraits of her three young children, often naked. Some of that early work is among this sprawling exhibition of 115 photographs exploring family, place, and memory. Throughout, death and decay in her native South provoke related aspirations to innocence.
Scars, blood, and specters haunt the large-format photographs, most of them black and white. Blurs, streaks, and scratches, fatal mistakes to most, become marks of meaning as Mann exploits the technology of her medium: antique lenses, high-contrast Ortho film, and the 19th-century collodion wet-plate process.
Subjects that might feel distant or irrelevant under another's gaze - Civil War battlefields, a bloody nose, black bodies - are visceral and agonizing when the viewer follows Mann's lead to look at them as though for the first time.
| | |
| --- | --- |
| Exhibition | Sally Mann: A Thousand Crossings link |
| Start date | 30 Jun 2018 |
| End date | 23 Sep 2018 |
| Presenter | Peabody Essex Museum link |
| Venue | 161 Essex Street, Salem, MA, USA map |
| Image | Sally Mann, Deep South, Untitled (Scarred Tree), 1998, gelatin silver print, National Gallery of Art, Washington, Alfred H. Moses and Fern M. Schad Fund, image © Sally Mann |
| Links | Reviews of current exhibitions near this one |
| Share | Facebook, Twitter, Google+ |