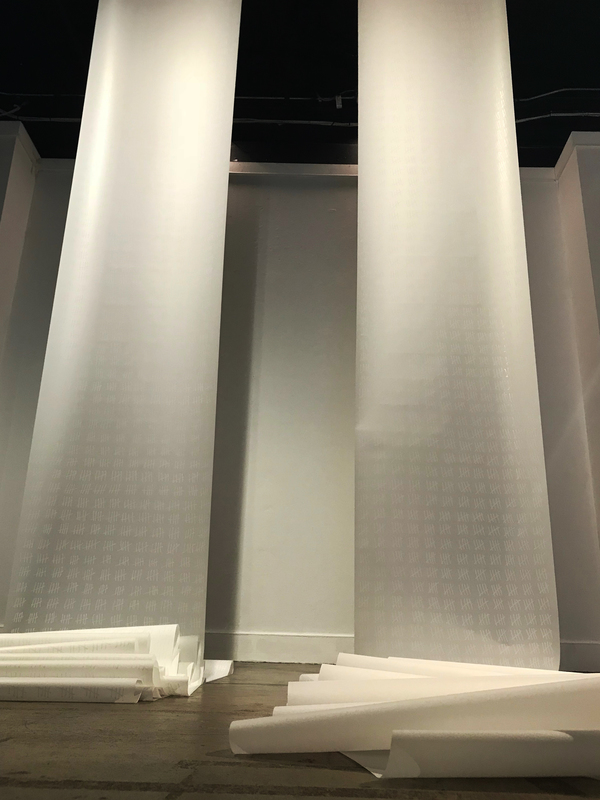 04 Jul 2018
Configuration: Tess Dempsey and Whitney Ramage
Bakehouse Art Complex
Reviewed by Elisa Turner
Quiet clarity fills the Audrey Love Gallery at the Bakehouse. Cleanly installed works in various media by Tess Dempsey and Whitney Ramage move macho-minimalism from the last century to a more tender level, though some works seem unduly spare.
It looks right for our days of non-stop digital screaming on social media, pinpointing bodies in the space of time passing. The two artists created "Configuration" during an artist residency at the Bakehouse, producing one piece together and others individually. The thirteen works convey call-and-response connections, protesting Orwellian risks from virtual reality and artificial intelligence.
Dempsey used hands as units of measurement to build geometric forms matching her body in common positions. Ramage's affecting rows of 1,365 folded paper boats mark the days since a close friend died in 2014. On two vellum scrolls in Running Out The Clock, hash marks stand for each day each artist has lived. Its naked simplicity stuns.
| | |
| --- | --- |
| Exhibition | Configuration: Tess Dempsey and Whitney Ramage |
| Start date | 28 Jun 2018 |
| End date | 14 Jul 2018 |
| Presenter | Bakehouse Art Complex link |
| Venue | 561 NW 32nd Street, Miami, FL, USA map |
| Image | Tess Dempsey and Whitney Ramage, Running Out The Clock, 2018, two sheets at 2 x 60 feet, courtesy of the artists |
| Links | Reviews of current exhibitions near this one |
| Share | Facebook, Twitter, Google+ |