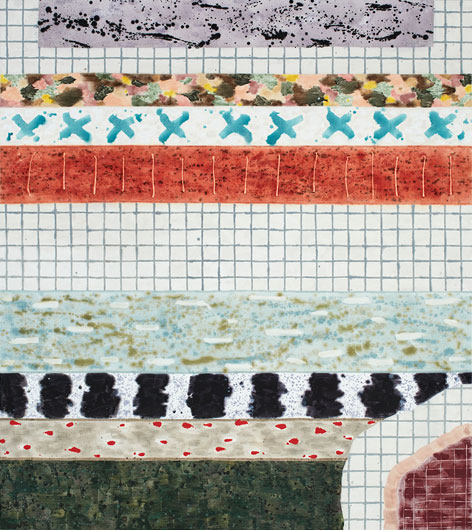 13 Nov 2016
Rebecca Morris
Corbett vs. Dempsey
Reviewed by Alan Pocaro
The seven large-scale works that comprise Rebecca Morris's show at Corbett vs. Dempsey start with the modernist impulse to explore: the nature of the medium, the limitations of the format, and the history of the discipline. All untitled, these earthen-hued works demonstrate with undeniable clarity that plenty of uncharted territory remains on painter's map.
In Untitled (2016) a series of horizontal bands lay bare the recent history of abstract painting like layers of geologic strata. The painting leaps outward with unwieldy spatters and then rapidly shifts into cerebral grids. Nearby, thinly stained patches of yellow ochre and somber green vibrate in a camouflage-like patterns that crawl across the canvas.
Morris has crafted a unique visual vernacular that contrasts the familiar with the unexpected, simultaneously complicating the space of the painting and the viewer's position relative to it. While the journey isn't without its uninspired detours, the destination is as fresh as new land.
| | |
| --- | --- |
| Exhibition | Rebecca Morris link |
| Start date | 21 Oct 2016 |
| End date | 03 Dec 2016 |
| Presenter | Corbett vs. Dempsey link |
| Venue | 1120 N. Ashland Avenue, 3rd Floor, Chicago, IL, USA (in the Dusty Groove building) map |
| Image | Rebecca Morris, Untitled, 2016, oil on canvas, 90 x 80 inches, courtesy of Corbett vs. Dempsey |
| Links | Reviews of current exhibitions near this one |
| Share | Facebook, Twitter, Google+ |