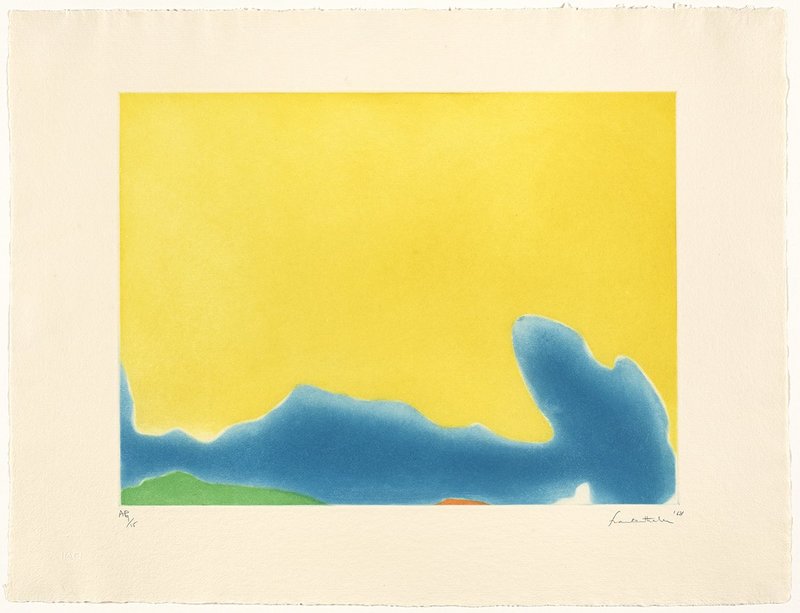 06 Jul 2018
Helen Frankenthaler Prints: The Romance of a New Medium
Art Institute of Chicago
Reviewed by Alan Pocaro
Drawn from the museum's collection and loans from the artist's foundation, "Helen Frankenthaler Prints" presents over fifty impressions from the master of post-painterly abstraction, emphasizing trial proofs that offer insight into the collaboration between the artist and the printers at Universal Limited Art Editions.
Particularly illuminating are the efforts that gave rise to the 1973 lithograph I Need Yellow. Numerous states, layout acetates, and an impression where the dominant color is instead green underscore the meticulousness required to create an illusion of spontaneity. In one failed print, the artist's hand-written notes refer to an "acid yellow" and flatly states "no thanks."
Though she was initially hesitant to embrace the sometimes onerous protocols of the discipline, Frankenthaler became an adept pupil. Her luminous palette and concise formal relationships, distilled through the alembic of printmaking, is on full display in this thoughtful and engaging exhibition.
| | |
| --- | --- |
| Exhibition | Helen Frankenthaler Prints: The Romance of a New Medium link |
| Start date | 30 Apr 2017 |
| End date | 03 Sep 2018 |
| Presenter | Art Institute of Chicago link |
| Venue | 111 S. Michigan Avenue, Chicago, IL, USA map |
| Image | Helen Frankenthaler, printed by Donn H. Steward, Yellow Span, 1968, ULAE Collection acquired through a challenge grant of Mr. and Mrs. Thomas Dittmer, restricted gift of supporters of the Department of Prints and Drawings, Centennial Endowment, Margaret Fisher Endowment Fund, © 2018 Helen Frankenthaler Foundation, Inc. / Artists Rights Society (ARS), New York / Universal Limited Art Editions (ULAE), West Islip, New York |
| Links | Reviews of current exhibitions near this one |
| Share | Facebook, Twitter, Google+ |