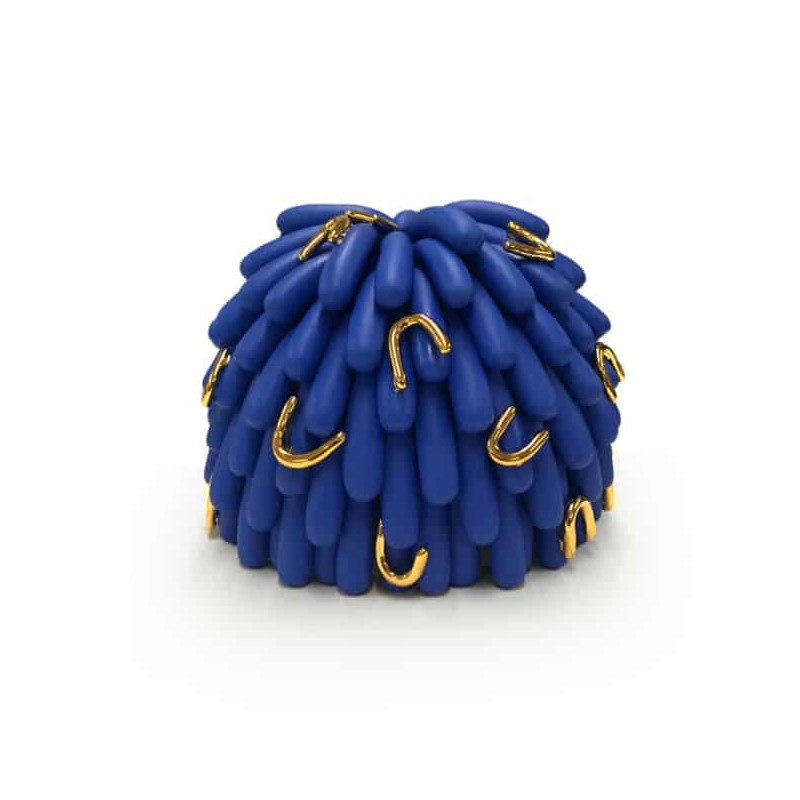 10 Jul 2018
Linda Lopez: Intermission
Mindy Solomon Gallery
Reviewed by Elisa Turner
Ceramic artist Linda Lopez kneads clay to suit her supple imagination, adding other materials as needed. The result is an uneasy marriage of the pedestrian and precious. Sometimes this union cloys but mostly it intrigues.
Lopez works with a form she calls a "furry," an irregular porcelain sphere just over 4 inches in diameter, studded with silver hooks. It resembles a clunky cleaning implement. Familiar, fierce, even cute, it could be a strange remnant of domestic labor. Lilac/Blue Dust Furry with Cut Outs (all are 2018) sweetly defies its ordinary contours.
Still is a playful still life spun from Cracker Barrel nostalgia. The largest and most ambitious piece in the show, Intermission, refers to the theme of pauses that mark time. It evokes a wooden stand displaying crafts in an outdoor market. Various levels present weavings and ceramic objects garnished with gold charms. They are truly clay feet marking the awkward passage from child to adult.
| | |
| --- | --- |
| Exhibition | Linda Lopez: Intermission link |
| Start date | 02 Jun 2018 |
| End date | 21 Jul 2018 |
| Presenter | Mindy Solomon Gallery link |
| Venue | 8397 NE 2nd Avenue, Miami, FL, USA map |
| Image | Linda Lopez, Blue Dust Furry with Gold Lint, 2018, porcelain, 4 1/4 x 4 1/4 x 4 1/4 inches, courtesy of Mindy Solomon Gallery |
| Links | Reviews of current exhibitions near this one |
| Share | Facebook, Twitter, Google+ |