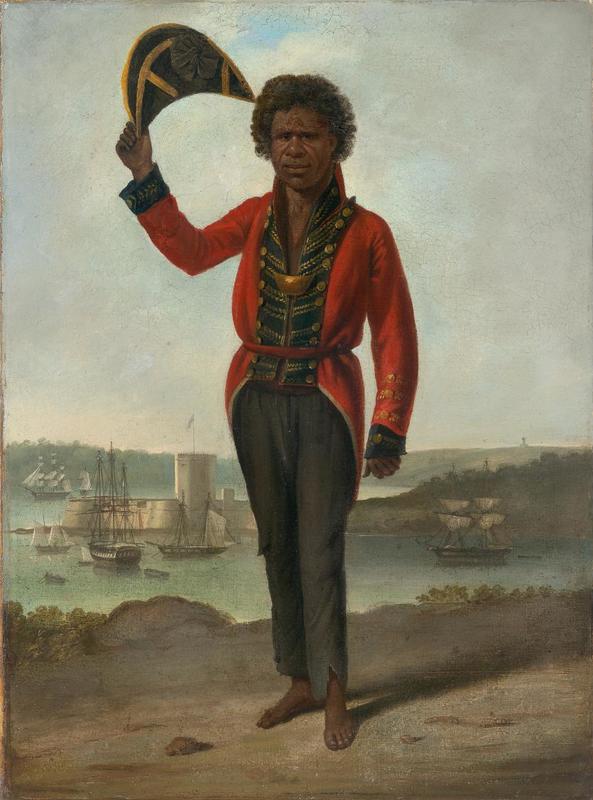 14 Jul 2018
Colony: Australia 1770-1861
National Gallery of Victoria, NGV Australia
Reviewed by Ranger Thomas
They stand at attention - 34 shields made in aboriginal southeast Australia, beautifully carved and painted with unique designs. According to Cook's journal, when commanding the landing party at Botany Bay in 1770, he ordered a musket to be fired over an unwelcoming native. The ball flew by the Dharawal warrior, startling him for a moment. He replied by holding up his shield in earnest, as if it were a middle finger.
After walking past this honor guard of shields, the viewer comes upon a dark alcove with a Dutch ship's journal and Isaac Gilsemans' coastal profiles in ink of Tasmania, 1692. They are thrilling, an equivalent of the first views of the moons of Jupiter from the Voyager mission.
There follows the largest gathering of Australian colonial art and artifacts ever assembled. All predate the founding of the NGV in 1861. Leg irons, made by convicts for convicts, are particularly creepy, but the whole exhibition is a profound experience.
| | |
| --- | --- |
| Exhibition | Colony: Australia 1770-1861 link |
| Start date | 15 Mar 2018 |
| End date | 15 Jul 2018 |
| Presenter | National Gallery of Victoria link |
| Venue | NGV Australia, Melbourne Square, Melbourne, AUS map |
| Image | Augustus Earle, Portrait of Bungaree, a native of New South Wales c. 1826, oil on canvas, 68.5 x 50.5 centimeters, Rex Nan Kivell Collection: National Library of Australia and National Gallery of Australia, Canberra, courtesy of the National Gallery of Victoria |
| Links | Reviews of current exhibitions near this one |
| Share | Facebook, Twitter, Google+ |