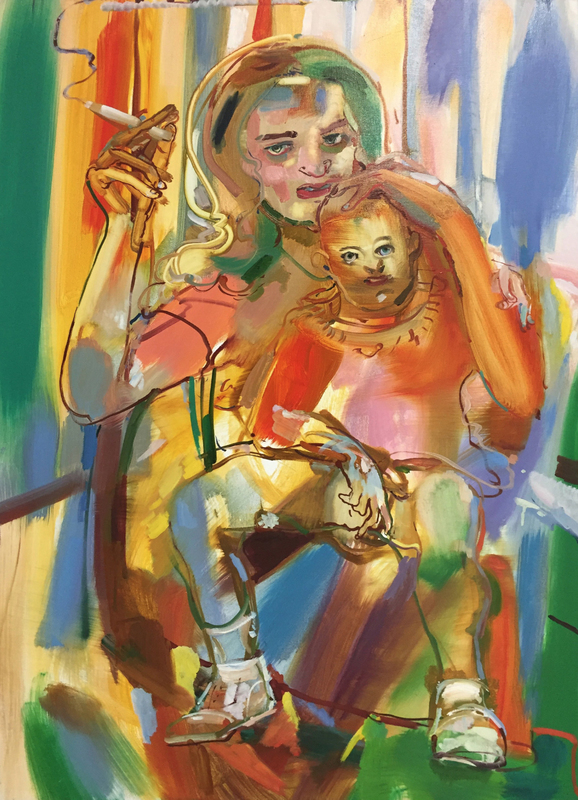 17 Jul 2018
Glazed: Angela Dufresne and Louis Fratino
Monya Rowe Gallery
Reviewed by Suzanne Unrein
"Glazed" combines salacious pleasures with robust sensuality in this exhibit of fresh, modestly sized paintings by Angela Dufresne and Louis Fratino.
Dufresne tantalizes and summons with comic, crazed faces that look out from brilliant, abstract backgrounds with erotic familiarity. Enticing body parts and facial features are accentuated with swaths of surprising hues while restless fingers play at sexual diddling. The rousing compositions are unified in a masterful partnering of frenetic movement and rhythmic color.
Fratino's portraits are stylized, languorous, and romantic with solid, sculptural forms that are reduced and simplified. A slow dance of flat planes and undulating forms surround geometric, contented faces rendered in deep lilacs, rusts, and grays. When not delighting in his decorative patterning of blankets, tilted picture frames and personal objects, his doodles and scratches offer a visual playground for more abstract delectations.
| | |
| --- | --- |
| Exhibition | Glazed: Angela Dufresne and Louis Fratino |
| Start date | 27 Jun 2018 |
| End date | 03 Aug 2018 |
| Presenter | Monya Rowe Gallery link |
| Venue | 224 West 30th Street, #1005, New York City, NY, USA map |
| Image | Angela Dufresne, Smoking Mammi, 2017, oil on canvas, 40 x 28 inches, courtesy of Monya Rowe Gallery |
| Links | Reviews of current exhibitions near this one |
| Share | Facebook, Twitter, Google+ |