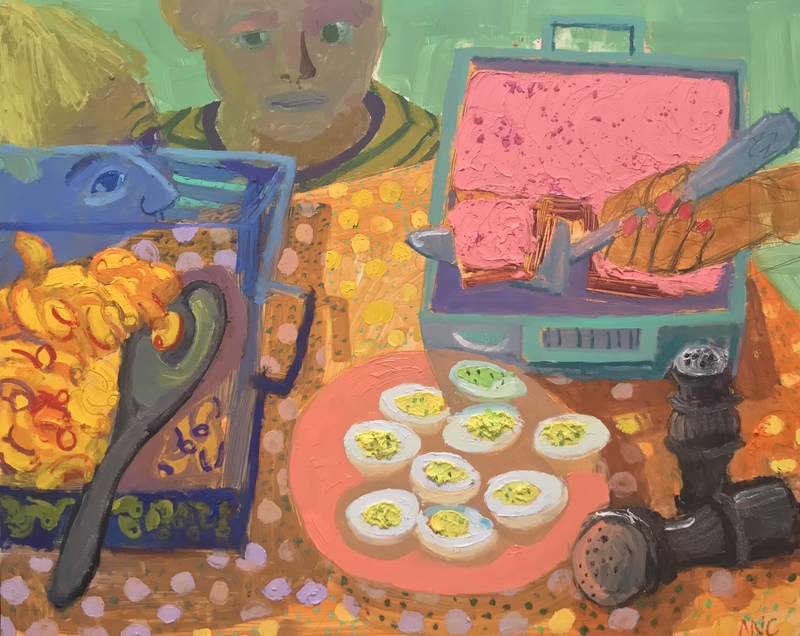 24 Jul 2018
Splash
Art Garage - Cooperstown
Reviewed by Franklin Einspruch
The Art Garage, like many spaces not sheltering a convertible, is putting on a group show for the summer.
It's always a pleasure to revisit Petey Brown's swimmers, cavorting in their flickering, Expressionist waters. Megan Adams Irving's landscapes executed in glazes on rectangles of stoneware are attractive, and given how dull glazes look prior to firing, of considerable technical interest.
Steph Marcus works in an adventurous array of media. Her figurative pictures are sometimes invaded by a cartoon rabbit, which among other things has blissfully possessed one of the characters in Artists Play Pool (Humans) (2017).
Ashley Norwood Cooper's oils are summer-appropriate: picnics, sunbathers, shirtless couples in love or at least relationships. Astonishing light emanates from her imagined, evocative scenes, particularly in one work in which in a child's face appears through blue glass and the teal reflecting off of a cake pan turns a deviled egg lime green.
| | |
| --- | --- |
| Exhibition | Splash |
| Start date | 10 Jul 2018 |
| End date | 22 Aug 2018 |
| Presenter | Art Garage - Cooperstown link |
| Venue | 689 Beaver Meadow Road, Cooperstown, NY, USA map |
| Image | Ashley Norwood Cooper, Macaroni and Cheese and Pink Cake, 2017, oil on panel, 16 x 20 inches, courtesy of the artist |
| Links | Reviews of current exhibitions near this one |
| Share | Facebook, Twitter, Google+ |