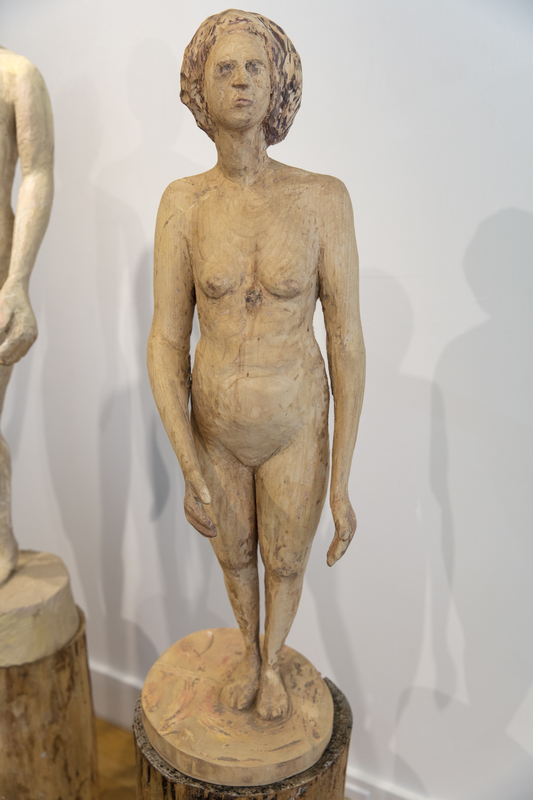 30 Jul 2018
Mark LaRiviere: A Certain Light
Thompson Giroux Gallery
Reviewed by Simon Carr
This selection of Mark LaRiviere's work shows him in two lights, as a master of figurative expression, and a powerful abstract painter.
His sculptures grow out of an intuitive feel for his materials. One can sense the artist's excitement and energy as he unlocks movement from a tree trunk or a block of clay. Standing Woman (2018) strides confidently towards us, her elongated arms reaching out for an embrace. Though his figures have great formal energy, they appeal to the viewer as unapologetically and intimately human.
The clusters of figures throughout the gallery balance his large abstract paintings on the walls, which are full of the luminosity and brilliance of the natural world. While the sculpted figures seem to gesture and dance into our space, the paintings draw us into their world of light. This fascinating exhibition gives a chance to compare one artist's vision in two very different mediums.
| | |
| --- | --- |
| Exhibition | Mark LaRiviere: A Certain Light |
| Start date | 30 Jun 2018 |
| End date | 05 Aug 2018 |
| Presenter | Thompson Giroux Gallery link |
| Venue | 57 Main Street, Chatham, NY, USA map |
| Image | Mark LaRiviere, Standing Woman, 2018, carved and painted wood, 34.25 x 12 x 11.5, photo credit: Casson Rugen, courtesy of Thompson Giroux Gallery |
| Links | Reviews of current exhibitions near this one |
| Share | Facebook, Twitter, Google+ |