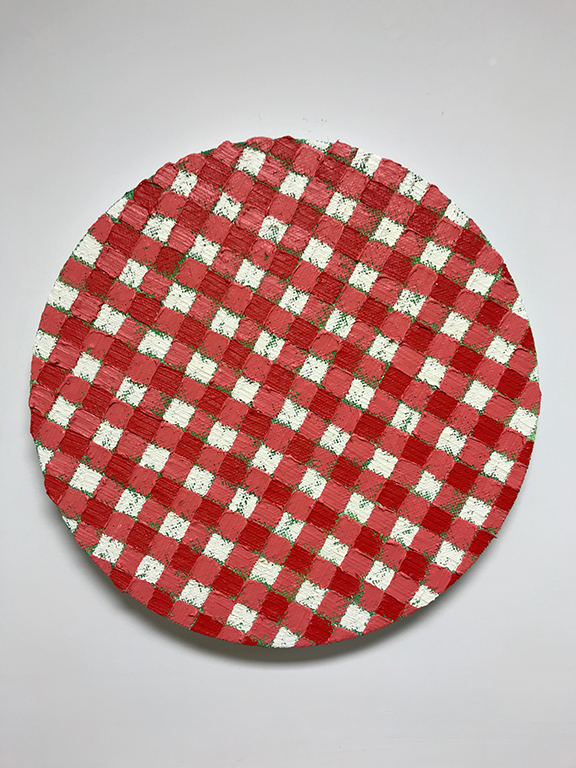 31 Jul 2018
Michelle Grabner: Picnic
Drive-By Projects
Reviewed by Shana Dumont Garr
In Michelle Grabner's paintings, the repetition of a red-and-white checked pattern dominates. But gradually, that impression shifts to variations on a theme. Drive-By Projects encourages people to see its shows from the street. To that end, a table draped with a gingham tablecloth stands picnic-ready at the front window, neatly balancing art and life.
The gridded proportions remain uniform throughout this series of circular paintings. Grabner applied oil and gesso impastos to burlap, with textures evoking textiles. While recognizable, the subject is neutral and nostalgic rather than part of a narrative: no mustard stains or potato salad here. The works may also be read as non-objective, with form and representation in taut counterbalance.
Bright green paint shows through the brushwork. Suggestive of grass, this layer subtly offers a setting for the object, omitting everything else. The pictures are reveries, built by the act of gazing until memory and material coexist.
| | |
| --- | --- |
| Exhibition | Michelle Grabner: Picnic link |
| Start date | 09 Jun 2018 |
| End date | 04 Aug 2018 |
| Presenter | Drive-By Projects link |
| Venue | 81 Spring Street, Watertown, MA, USA map |
| Image | Michelle Grabner, Untitled, 2018, oil, gesso and burlap on panel, 20 inches diameter, courtesy of Drive-By Projects |
| Links | Reviews of current exhibitions near this one |
| Share | Facebook, Twitter, Google+ |