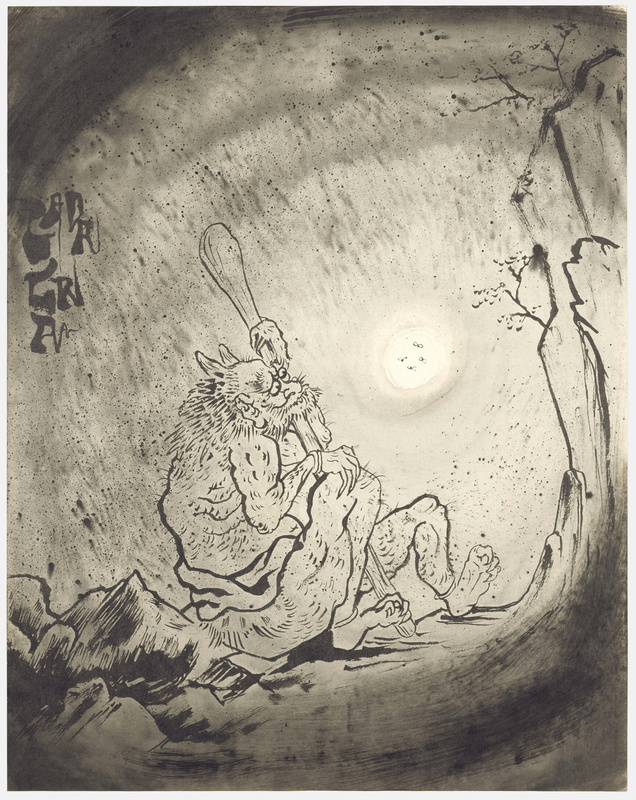 01 Aug 2018
Dr. Lakra and Mezcal Los Dos Amigos
kurimanzutto
Reviewed by Suzanne Unrein
Mexican surrealism meets sumi-e ink washes in 77 mashups by the artist and tattooist Jeronimo Lopez Ramirez, aka Dr. Lakra.
Lakra's fluid and masterful drawings combine Japanese iconography with mythical dream states. They skillfully traverse cultures and emotions in a singular vision. A monkey sees, hears, and speaks no evil while a dubious skull lies underfoot. An argyle sweater-clad fusion of snake and shriveled penis portrays the absurdity of impotency. In the poignant Yoru no hotaru (2018), an oni clutches a club in the existential darkness while peering out at fireflies bathed in their hopeful yet minuscule light.
Accompanying the exhibit is Lakra's collaboration with Abraham Cruzvillegas, Mezcal Los dos Amigos. Labels on mezcal-filled recycled liquor bottles become the canvases for the artists to conduct a dialogue through sketches and appropriated images. The project provides a wonderfully homegrown, expanded context for the sumi-e drawings.