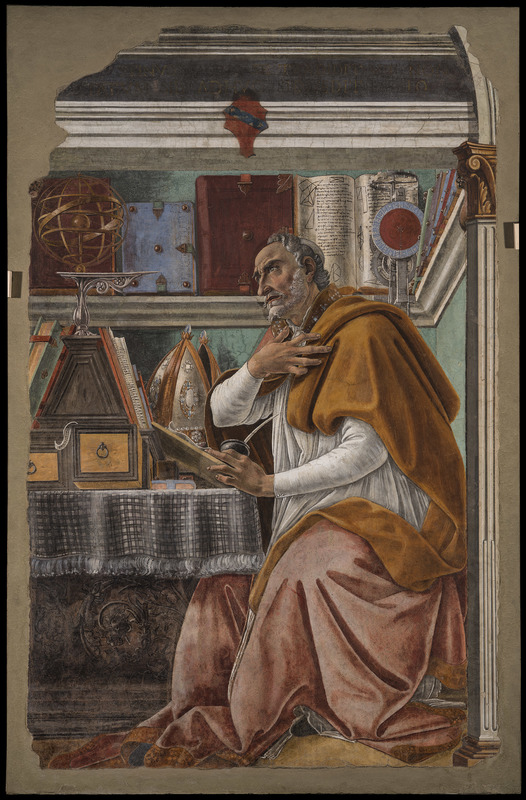 03 May 2017
Botticelli and the Search for the Divine
Museum of Fine Arts, Boston
Reviewed by Michael Stiefel
Sandro Botticelli's artistic approach changed under the influence of the reforming friar Savonarola. Judgment of Paris, Minerva and the Centaur, and Venus are mythical works executed with a graceful style. Later paintings, Adoration of the Magi, Virgin and Child with the Young Saint John, and Mystic Crucifixion are severe religious compositions.
The pivotal work is Saint Augustine in His Study. Augustine, surrounded by scientific books and instruments, a clock, and his bishop's miter, contemplates the spiritual conflict over whether to see the world with reason and intellect, or revelation and intuition. Botticelli put his own struggle into the fresco. The colors are muted. The clothing folds and expressions are depicted with minimal effects. The picture has meager depth. No longer mythical, the setting is not yet purely religious.
Through his travails, Botticelli merged the classic idea of artistic storytelling with the developing desire for realistic depiction.
| | |
| --- | --- |
| Exhibition | Botticelli and the Search for the Divine link |
| Start date | 15 Apr 2017 |
| End date | 09 Jul 2017 |
| Presenter | Museum of Fine Arts, Boston link |
| Venue | 465 Huntington Avenue, Boston, MA, USA map |
| Image | Sandro Botticelli, Saint Augustine in his Study, ca. 1480, detached fresco, Church of San Salvatore in Ognissanti, Florence, courtesy of the Museum of Fine Arts, Boston |
| Links | Reviews of current exhibitions near this one |
| Share | Facebook, Twitter, Google+ |