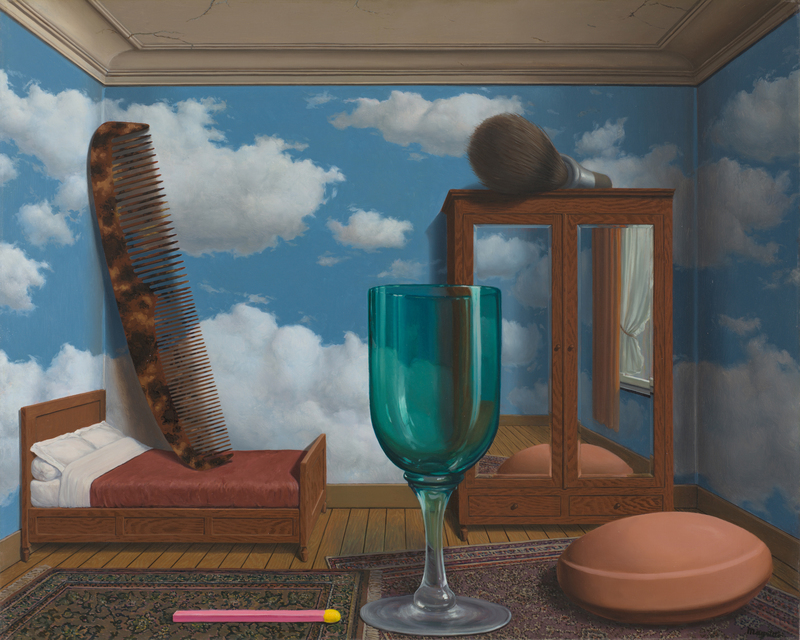 09 Aug 2018
René Magritte: The Fifth Season
San Francisco Museum of Modern Art
Reviewed by John Rapko
This show displays the later results of René Magritte's attempt to realize a visual conception of what he called "poetry." In 1942 he abandoned the conception of a picture as the solution to the problem of uniting an image with its latent associations. Instead he took up a "Sunshine Surrealism" aping the later manner of Renoir, whose flesh-evoking touches are wrenched into the flattened haloing of Image of a Green House (1944) and the smearing surface patterning of the houses therein.
Briefly in 1948 Dadaism returned in the Vache paintings, seemingly parodies of Fauvism whose target is as much Magritte's own archaic belief in the magic of painting. The illuminating sun of Seasickness resembles the tossed wattle of a turkey.
Then the more familiar style of displaced illustrations and gigantism returned. Personal Values (1952) suggests that the poetry that Magritte sought but rarely realized and never articulated was of textured surfaces that hid the fact that they hid nothing.
| | |
| --- | --- |
| Exhibition | René Magritte: The Fifth Season link |
| Start date | 19 May 2018 |
| End date | 28 Oct 2018 |
| Presenter | San Francisco Museum of Modern Art link |
| Venue | 151 Third Street, San Francisco, CA, USA map |
| Image | René Magritte, Personal Values, 1952, oil on canvas, San Francisco Museum of Modern Art, purchase through a gift of Phyllis C. Wattis, © Charly Herscovici, Brussels/Artists Rights Society (ARS), New York |
| Links | Reviews of current exhibitions near this one |
| Share | Facebook, Twitter, Google+ |