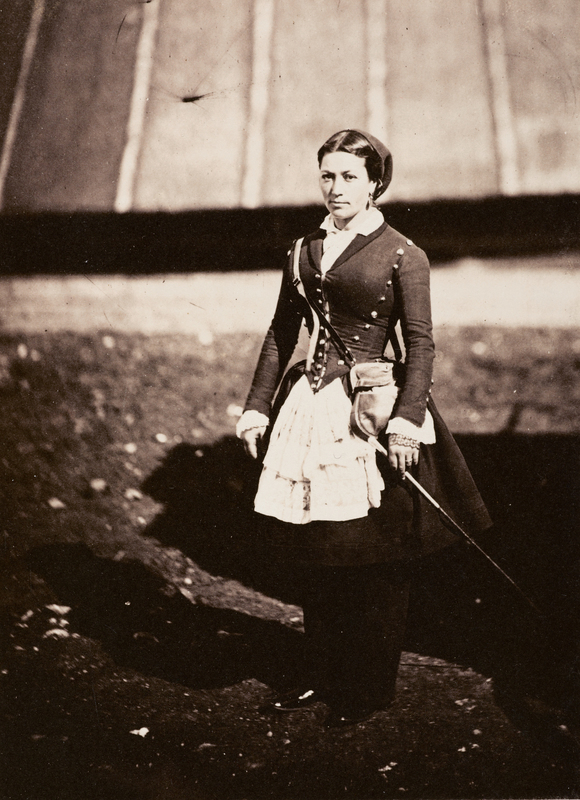 23 Aug 2018
Salt and Silver: Early Photography, 1840-1860
Yale Center for British Art
Reviewed by Jan Castro
William Henry Fox Talbot (1800-1877) discovered that embedding light-sensitive salts into paper brushed with silver nitrate, then exposing it to light, produced soft, velvety prints in a range of charcoal, sepia, and violet hues. The Yale Center for British Art focuses on forty salt photography practitioners who developed genres used today: still lifes, portraits, landscapes, architecture, and archaeology.
Family portraits, depictions of exotic locals, and archaeology sites in Egypt, Paris, Russia, China, Algeria, and Turkey predominate. Human subjects show a range of social classes and moods. A female Cantinière in a tight-fitting military uniform has a forthright gaze. A child peeks out from the center of a group of three older female relatives who hold her doll.
All but one of more than a hundred prints come from the Wilson Centre for Photography in London. The accompanying book contextualizes this rare, in-depth survey of photography's origins.
| | |
| --- | --- |
| Exhibition | Salt and Silver: Early Photography, 1840-1860 link |
| Start date | 28 Jun 2018 |
| End date | 09 Sep 2018 |
| Presenter | Yale Center for British Art link |
| Venue | 1080 Chapel Street, New Haven, CT, USA map |
| Image | 8. Roger Fenton, Cantinière, 1855, salted paper print from glass plate negative, courtesy of the Wilson Centre for Photography |
| Links | Reviews of current exhibitions near this one |
| Share | Facebook, Twitter, Google+ |