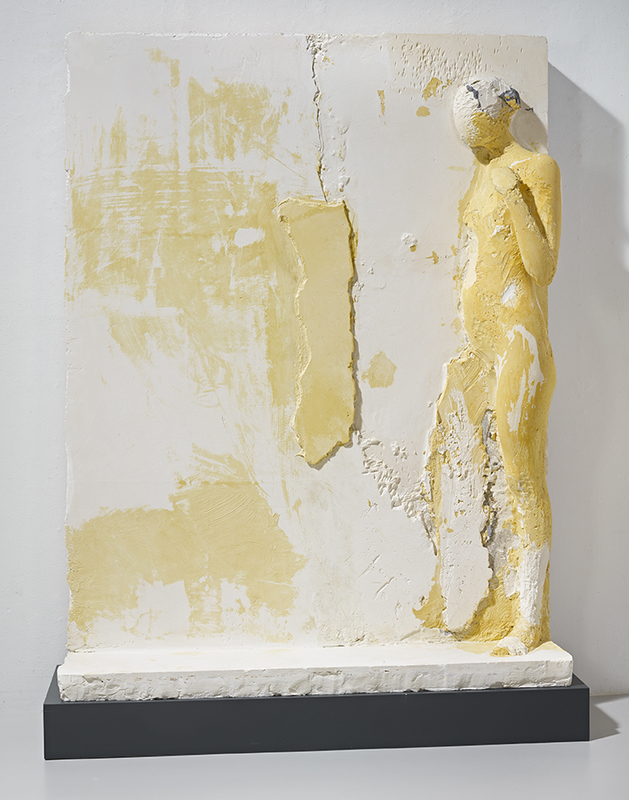 28 Aug 2018
Manuel Neri: The Human Figure in Plaster and on Paper
Yale University Art Gallery
Reviewed by Ashley Norwood Cooper
Manuel Neri's stunning plaster sculptures of women are bathed in the natural light at the Yale Gallery.
Neri caked plaster onto simple armatures with his hands and varied its textures - smooth as marble, bubbly like lava, or chiseled and left rough. In some pieces the artist mixed in pigment, and applied strokes of color to enhance the forms.
This is a sculptor whom painters can't help but love. His layered surfaces and lyricism place him within the circle of Bay Area painters who were his friends and teachers. His works on paper strengthen these connections.
Yet there is something else here: an archetypal vision. Repetition of the female form in a simple standing pose brings to mind archaic Greek kourai and a longing for the source of things. Manuel Neri's earnest, humble processes make this exhibition a timely one for a generation sick to death of sensationalism and jaded irony. These are the artifacts of a life spent seeking transcendence through the simple, human act of making.
Exhibition
Manuel Neri: The Human Figure in Plaster and on Paper link
Start date
02 Mar 2018
End date
27 Jan 2018
Presenter
Yale University Art Gallery link
Venue
1111 Chapel Street, New Haven, CT, USA (at York Street) map
Image
Manuel Neri, Arcos de Geso V, 1985, plaster with pigment, Yale University Art Gallery, gift of The Manuel Neri Trust, © The Manuel Neri Trust, photo: M. Lee Fatherree
Links

Reviews of current exhibitions near this one

Reviews by Ashley Norwood Cooper

Share
Facebook, Twitter, Google+