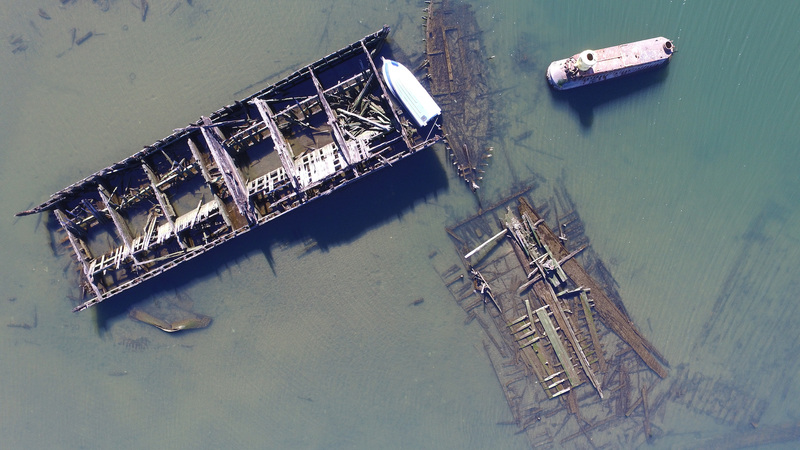 04 May 2017
Autoscopia: Drone Photography by Thomas J. Campanella
Cornell University College of Architecture, Art, and Planning, Cornell University
Reviewed by Arthur Whitman
Mindful of the technology's sinister associations but alive to its human fascination, Cornell urban planning professor Thomas Campanella enlists a consumer drone to extend his longstanding interest in aerial photography. In an informally hung hallway exhibit, "Autoscopia," he presents ten large digital prints.
Remains of the Bay and Mill Dam Down show Brooklyn waters, layered lessons in industrial history that double as austere abstractions.
The artist is a native of the borough. Many-Storied House and Metropolis sample its urban grid, the latter view upturned to show a distant Manhattan skyline. Locals will recognize the brick smokestack of Ithaca Gun, looming toward us like one of the weapons once manufactured at the 19th century site.
A video shows the DJI Inspire I drone with which he shot most of these photos, hovering above the Seneca River in Montezuma, New York. The same area also appears in Seneca River Aqueduct, a close-up recalling Piranesi's own nostalgic ruins.
| | |
| --- | --- |
| Exhibition | Autoscopia: Drone Photography by Thomas J. Campanella link |
| Start date | 23 Apr 2017 |
| End date | 13 May 2017 |
| Presenter | Cornell University College of Architecture, Art, and Planning link |
| Venue | Cornell University, 129 Sibley Dome, Ithaca, NY, USA map |
| Image | Thomas J. Campanella, Remains of the Bay, 2017, digital print, courtesy of the artist |
| Links | Reviews of current exhibitions near this one |
| Share | Facebook, Twitter, Google+ |