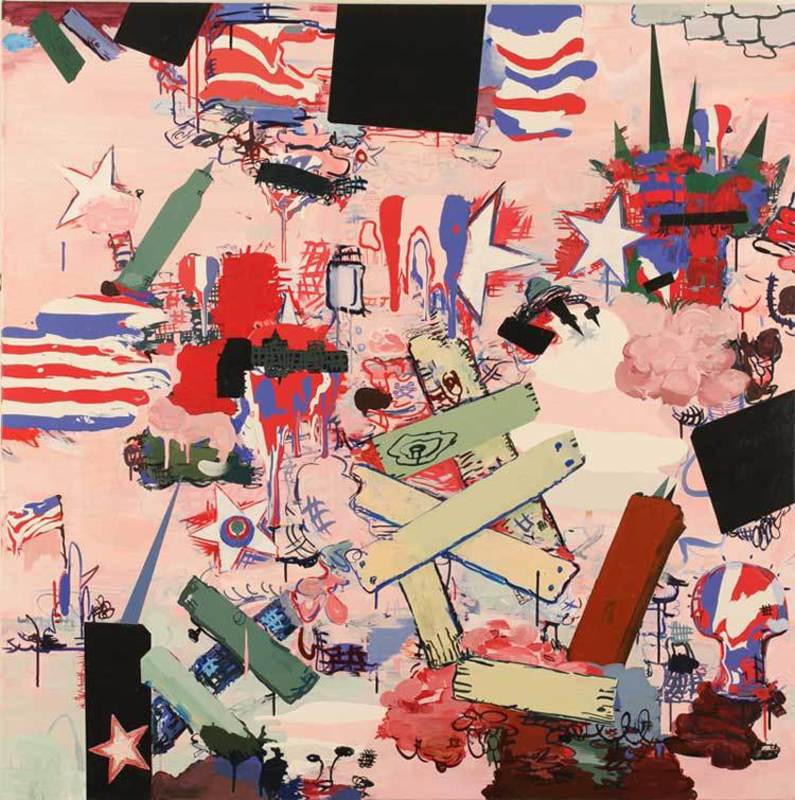 04 Oct 2018
Jane Fine: Love, American Style
Pierogi
Reviewed by Suzanne Unrein
Rendered in the style of pre-tech, 1970s cartoons, Jane Fine's paintings of groovy symbols, political imagery, and abstract doodling are a disquieting mix of innocent fun and a darker, Trump-era subversion.
The smaller works evoke 4-color pens with red, blue, brown, and black playing over metallic backgrounds. Flat, rounded planes break up the space while black shapes block out messages. "Sad," "Secrets," and "No" multiply and frolic in puffy lettering. Crossed out swastikas and money signs float among flowers and nonsensical speech bubbles.
In the larger So Much Winning (2018), flags tear and melt while their white stars freed from their confines shine brightly. A torn-apart fence hovers. (Good fences make good neighbors?) A partially concealed Statue of Liberty crown is smeared with red and blue. Missiles and toppled buildings pop out of abstractions. The imagery creates an ominous message amid a dynamic composition of exuberant paint on a powdery pink background.
| | |
| --- | --- |
| Exhibition | Jane Fine: Love, American Style link |
| Start date | 05 Sep 2018 |
| End date | 07 Oct 2018 |
| Presenter | Pierogi link |
| Venue | 155 Suffolk Street, New York City, NY, USA map |
| Image | Jane Fine, So Much Winning, 2018, acrylic on canvas, 48 x 48 inches, courtesy of Pierogi |
| Links | Reviews of current exhibitions near this one |
| Share | Facebook, Twitter, Google+ |