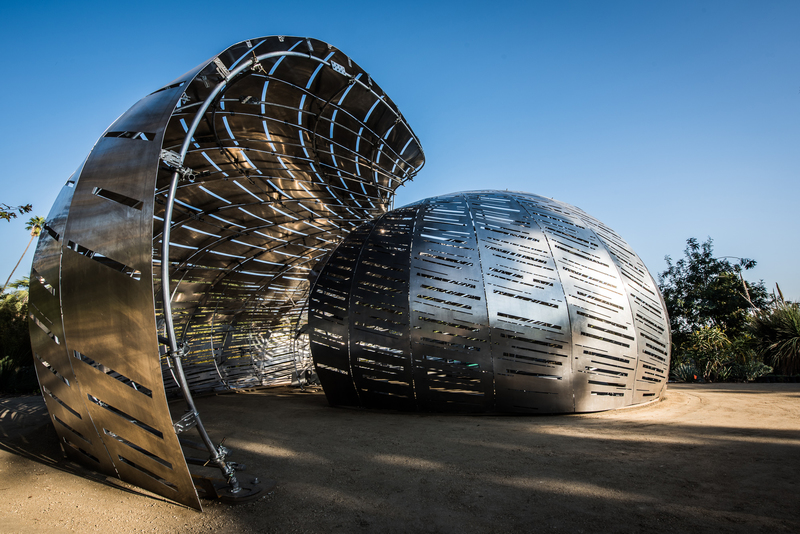 04 May 2017
Orbit Pavillion
Huntington Library, Art Collections, and Botanical Gardens
Reviewed by Elizabeth A. Rose
The Orbit Pavilion is a multi-sensory experience showcasing sound artist Shane Myrbeck. Within the space, the California sun casts a slow shadow. The smell of plants wafts through the walls. The wind kicks up grit and blows in branches and leaves that collect behind benches and get caught up in the viewer's sandals: evidence of the entropy of the universe, best contemplated over frozen lemonade.
The NASA Jet Propulsion Lab conceived of the Orbit Pavillion as a way to bring the experience of the satellites within the reach of everyday people. It strives for profound and arrives at the crossroads of pleasant and interesting.
The structure itself is a 28'-diameter walk-in nautilus-cum-galaxy, a shiny, perforated aluminum skin over a steel-pipe armature. Speakers broadcast Myrbeck's composition, inspired by the International Space Station and nineteen satellites that observe Earth. The resulting harmony resonates within the structure, a modern-era rendition of the music of the spheres.
| | |
| --- | --- |
| Exhibition | Orbit Pavillion link |
| Start date | 29 Oct 2016 |
| End date | 04 Sep 2017 |
| Presenter | Huntington Library, Art Collections, and Botanical Gardens link |
| Venue | 1151 Oxford Road, San Marino, CA, USA map |
| Image | Exterior view of Orbit Pavilion at The Huntington, photo courtesy NASA/JPL-Caltech and The Huntington Library, Art Collections, and Botanical Gardens, © The Huntington |
| Links | Reviews of current exhibitions near this one |
| Share | Facebook, Twitter, Google+ |