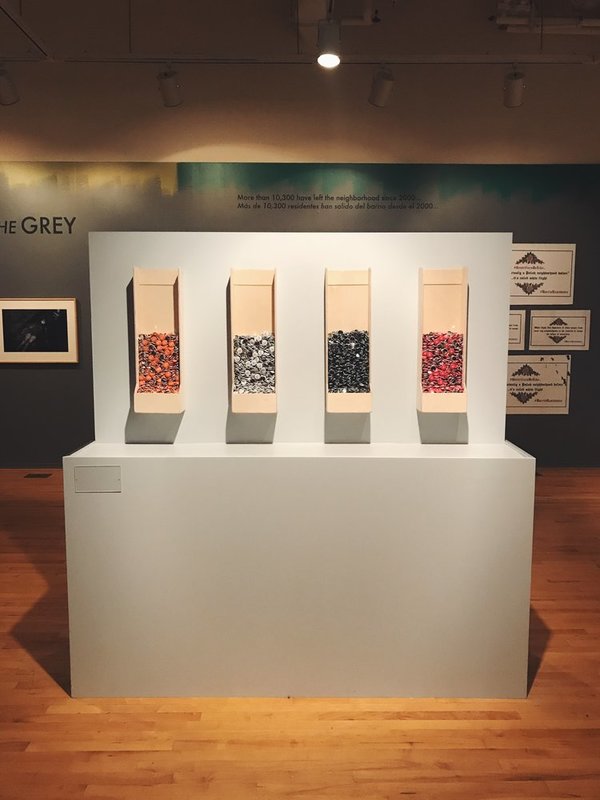 14 Nov 2018
Peeling off the Grey
National Museum of Mexican Art
Reviewed by Nina Versenyi
Grey: the paint color of choice of the gentrifier.
"Peeling off the Grey" at the National Museum of Mexican Art uncovers the pain accompanying the rapid gentrification of Pilsen, a predominantly Mexican neighborhood in Chicago. Art and activism are indivisible in this bilingual exhibition with pieces from Barrio Resistance, a poem by Luis Tubens, and William Estrada's Not For Sale - Posters (2018).
Upon entering, confrontation is immediate. Sarita Garcia and Joseph Josué Mora's interactive piece, Dispenser 1, 2, 3, 4: Pilsen (2018), invites the visitor to self-identify as an insider or outsider by selecting a button out of one of four plywood dispensers. As of October 5, the only buttons remaining were those labeled "displaced from here." The absent identifiers are "raised here," "new here," and "not from here."
The three empty dispensers and identity of the remaining buttons are a stark reminder of the absence of those displaced.
| | |
| --- | --- |
| Exhibition | Peeling off the Grey link |
| Start date | 11 May 2018 |
| End date | 03 Mar 2018 |
| Presenter | National Museum of Mexican Art link |
| Venue | 1852 W. 19th Street, Chicago, IL, USA map |
| Image | Sarita Garcia and Joseph Josué Mora, Dispenser 1, 2, 3, 4: Pilsen, 2018, plywood, cast acrylic, and buttons, courtesy of the artists |
| Links | Reviews of current exhibitions near this one |
| Share | Facebook, Twitter, Google+ |