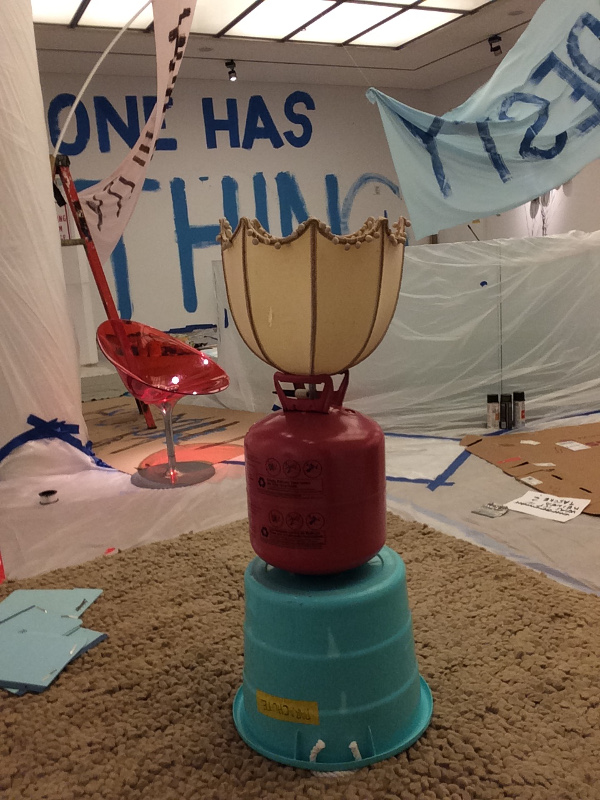 01 Dec 2018
Krištof Kintera: Do Not Litter, Do Not Feed Birds and Do Not Push the Help Button (Yet)
Czech Center New York
Reviewed by William Corwin
"Do Not Litter" is a nihilistic nightmare in which the aesthetic becomes DIY in perpetuity. Krištof Kintera's base materials are the blue tape, sawhorses, tarps, and tinny radio of the work site. A liberating sensation of chaos is heightened by a video of the artist in his studio in the act of rough making.
Talismans come into being via this process of finding and intersecting. Balls, rocks, lampshades, and inner tubes combine with the construction materials. They end up on the walls and land on incongruous plinths as artworks. Beautiful in their singularity, they compete with ladders, worktables and pallets. A hammer jammed into the wall and an unfinished dinner roll on a stool serve as cautionary examples of this process running into a ontological dead end.
"NO ONE HAS NOTHING" is painted floor-to-ceiling in blue letters on the back wall. This and other blunt naïvetés are balanced by pencil inscriptions like "I am afraid of people," indicating a wonderful indecision at the root of the fury.
| | |
| --- | --- |
| Exhibition | Krištof Kintera: Do Not Litter, Do Not Feed Birds and Do Not Push the Help Button (Yet) link |
| Start date | 16 Nov 2018 |
| End date | 06 Dec 2018 |
| Presenter | Czech Center New York link |
| Venue | 321 East 73rd Street, New York City, NY, USA map |
| Image | Installation view, Krištof Kintera: Do Not Litter, Do Not Feed Birds and Do Not Push the Help Button (Yet), photo by William Corwin |
| Links | Reviews of current exhibitions near this one |
| Share | Facebook, Twitter, Google+ |