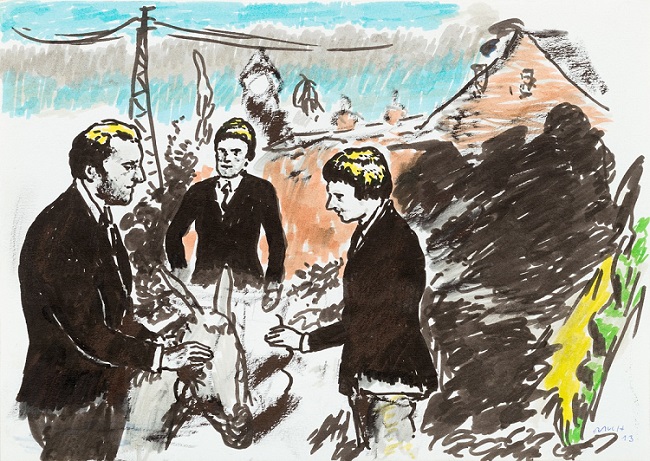 06 Dec 2018
Neo Rauch: Aus dem Boden/From the Floor
Des Moines Art Center
Reviewed by Alan Pocaro
Despite intense popularity in Europe, enigmatic German painter Neo Rauch and his equally mysterious pictures remain stubbornly underappreciated in this country. So it may seem strange that a rare, museum-scale treatment of his work should focus almost exclusively on small drawings. But what they lack in size, they recompense in volume.
"Aus dem Boden" offers viewers a prodigious, 170-piece window onto the artist's process, loosely arranged around several themes. In them, Rauch whimsically fuses felt-tip marker, pencil, ink, and oil paint on a standard A4 sheet. Spontaneity and structure coexist, and though he claims the drawings are not studies for his large-scale paintings, their psycho-surreal origins are the same.
Arising from a hypnagogic state, Rauch's interest in the dreamlike and the absurd are vividly rendered in pieces such as 2014's Mistel, but the spaces remain less fully integrated than his larger painted works, five of which are interspersed throughout. An insightful show of notes, doodles, and ideas, there's enough detail for hours of satisfied looking.
| | |
| --- | --- |
| Exhibition | Neo Rauch: Aus dem Boden/From the Floor link |
| Start date | 28 Sep 2018 |
| End date | 06 Jan 2019 |
| Presenter | Des Moines Art Center link |
| Venue | 4700 Grand Avenue, Des Moines, IA, USA map |
| Image | Neo Rauch, Die Eselpfleger, 2013, felt-tip pen and oil on paper, 8 1/4 x 11 3/4 inches, courtesy the artist, Galerie EIGEN + ART Leipzig/Berlin and David Zwirner, © Neo Rauch, VG Bild-Kunst, Bonn / Artists Rights Society (ARS), New York |
| Links | Reviews of current exhibitions near this one |
| Share | Facebook, Twitter, Google+ |