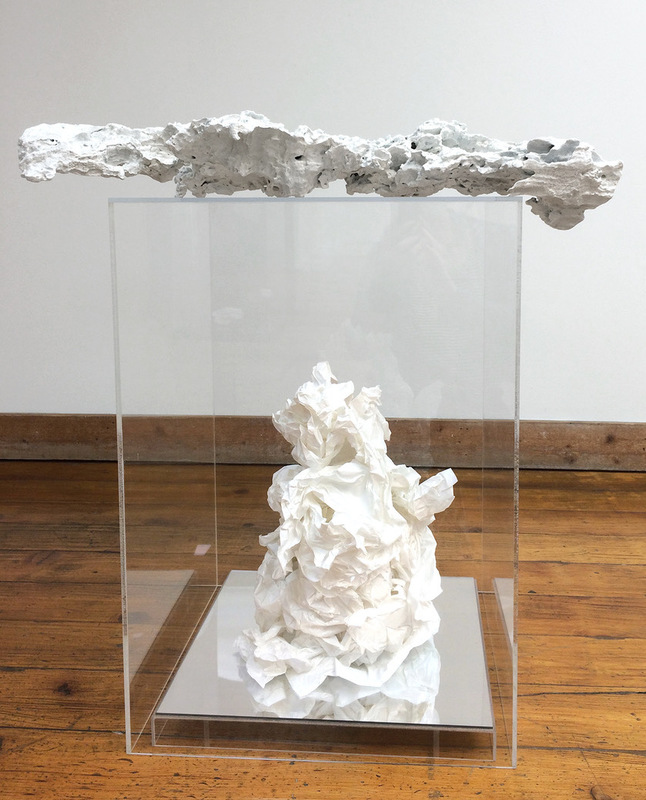 18 Dec 2018
Theodora Varnay Jones: Dialectics: angles of cognition, in the orbit of photography
Don Soker Gallery
Reviewed by Barbara Bryn Klare
Tucked atop a flight of stairs on the second floor of an inconspicuous brick building, Don Soker Gallery is perfect for works that invite contemplation and intimacy, such as the current exhibition of Theodora Varnay Jones. It features a heady, monochromatic mix of works on paper, encased objects, sculpture, frottage, silverpoint drawings, and photography. Each piece lands in a periphery, oblique but restful.
Quiet dialogue occurs across media, process, and context. In Reflections (2018), a small combination drawing/photograph, horizon lines arrive in the middle of a lake of nothingness. Reality drifts hazily in the balance. In Mimic (2018), a painted length of driftwood converses with the crumpled paper sculpture in the case beneath.
Many of the pieces were produced during a residency at the Morris Graves Foundation, where artists retreat "unplugged" - no cell phones, tablets, or cameras - in the artist's former studio. Like this show, the experience is refreshing and deeply nurturing, hydrating to the hurried mind.
| | |
| --- | --- |
| Exhibition | Theodora Varnay Jones: Dialectics: angles of cognition, in the orbit of photography link |
| Start date | 10 Nov 2018 |
| End date | 22 Dec 2018 |
| Presenter | Don Soker Gallery link |
| Venue | 2180 Bryant Street, Suite 205, San Francisco, CA, USA map |
| Image | Theodora Varnay Jones, Mimic, 2018, wood, pigments, mirrored Plexiglas, crumpled acrylic wrappings, Plexiglas, approximately 30 x 29 x 17 inches, courtesy of the artist |
| Links | Reviews of current exhibitions near this one |
| Share | Facebook, Twitter, Google+ |