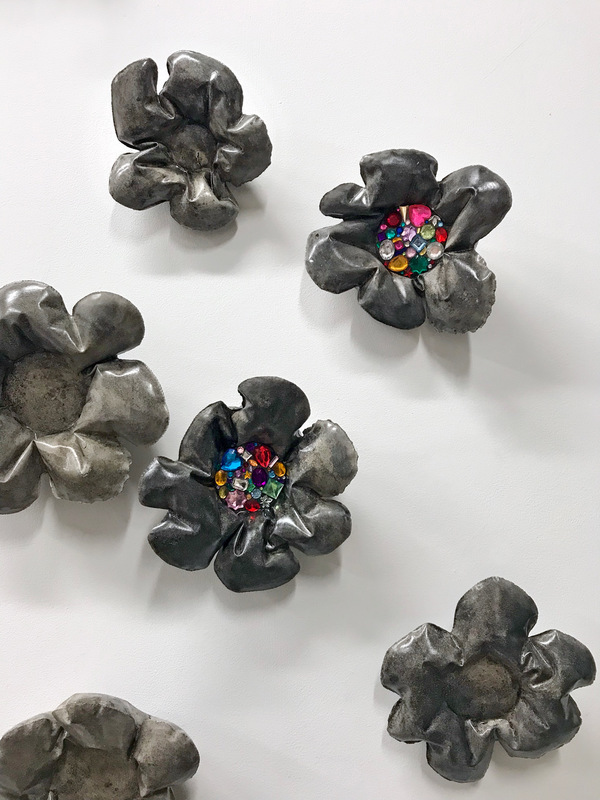 04 Jan 2019
Sarah Bowling: Private Party
RULE Gallery
Reviewed by Elisa Turner
As flouncy, flower-like shapes, Sarah Bowling's Sweet spot sculptures are cheerfully clustered on the wall, studded with fake, candy-colored jewels - bright and "blingy," as the artist says. They create a happy, synthetic garden, at home in the high desert. Their intimate size is beguiling, sassy, and sweet, and they stand out in this show as especially clever.
A careful look reveals a sly twist to the sass. The artist imbues these curvy shapes with a dense, pervasive solidity that counters their sweetness, delivering a swift kick. The series includes a slightly larger rectangular piece shaped like a puffy accent pillow or mutant blossom.
A tension between material and form energizes these overtly silly objects, undermining the superficial first impression that they make. The unlikely material for these desert flowers is gray cement, mixing the sand and rock redolent of Texas, Marfa especially. The sculptures are a witty riposte to the seminal, sharp-edged geometry of Donald Judd's sculptures at the Chinati Foundation nearby.
| | |
| --- | --- |
| Exhibition | Sarah Bowling: Private Party link |
| Start date | 05 Oct 2018 |
| End date | 05 Jan 2019 |
| Presenter | RULE Gallery link |
| Venue | 250 Broome Street, New York City, NY, USA map |
| Image | Sarah Bowling, Sweet spot, 2018, cement, ink, cement sealer, acrylic jewels, adhesive, each approximately 8 x 8 x 4 inches, courtesy of RULE Gallery |
| Links | Reviews of current exhibitions near this one |
| Share | Facebook, Twitter, Google+ |