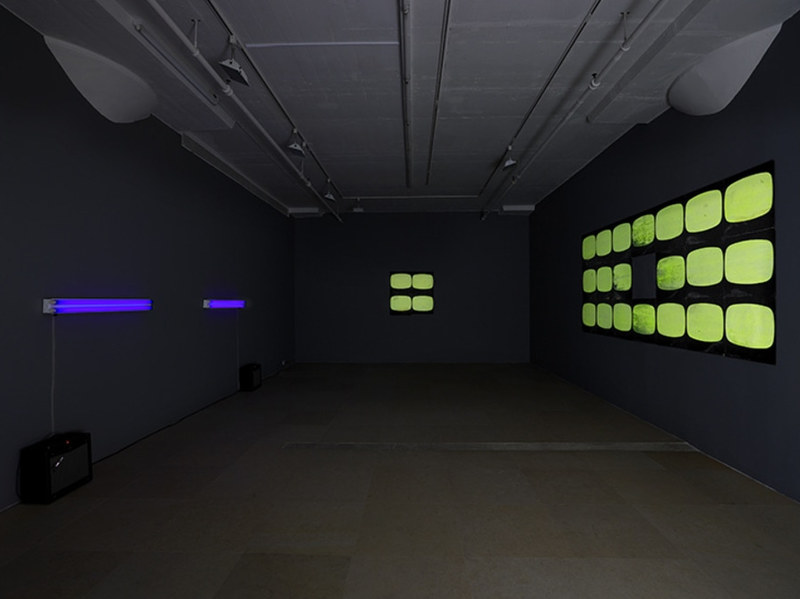 30 Dec 2018
Introducing Tony Conrad: A Retrospective
Carpenter Center for the Visual Arts, Harvard University
Reviewed by Heather Kapplow
Split between two institutions, this touring exhibition of the not-fully-recognized-for-his-contributions-to-multiple-fields-until-the-last-ten-years-of-his-life artist Tony Conrad, feels about the right size for the important task of righting that wrong.
Harvard's piece of the exhibition is film-heavy, including Conrad's self-curated six-hour long showcase of his works, Authorized to Surrender: A Video Retrospective, 1977-90. It's lovely (and a bit exhausting) to have access so many of his experimental works at once - not simply the most famous, his 1966 The Flicker.
Harvard also has some of Conrad's most recent works, including his 2013 Phonarmonica, an iteration of a glass harmonica involving a drill press and four toilet plunger heads. A simple sound-installation piece, made in 2012 based on archival recordings, Bryant Park Moratorium, is a clear precursor to his major project Studio of the Streets, featured in Documenta in the early 1990s.
| | |
| --- | --- |
| Exhibition | Introducing Tony Conrad: A Retrospective link |
| Start date | 18 Oct 2018 |
| End date | 30 Dec 2018 |
| Presenter | Carpenter Center for the Visual Arts link |
| Venue | Harvard University, 24 Quincy Street, Cambridge, MA, USA map |
| Image | Installation view of Tony Conrad, Yellow Movie (video) (1973) in Tony Conrad: Undone, Greene Naftali, New York, 2016, courtesy of The Estate of Tony Conrad and Greene Naftali, New York, image courtesy Greene Naftali, New York, work © The Estate of Tony Conrad |
| Links | Reviews of current exhibitions near this one |
| Share | Facebook, Twitter, Google+ |