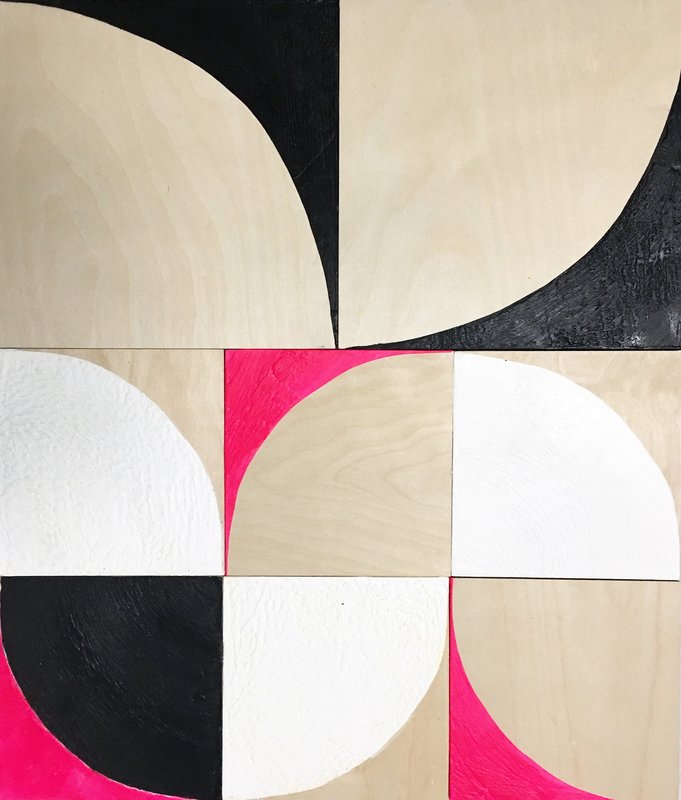 29 Jan 2019
Domenica Brockman
Community Arts Partnership ArtSpace
Reviewed by Arthur Whitman
Painted on raw plywood panels, Domenica Brockman's recent abstractions combine a hard-edge geometry with areas of rich painterly facture. Employing encaustic as her signature material and using the bare wood as a neutral foil, she builds up, collage-like, complex figure/ground puzzles.
For her current exhibit at CAP, she has moved into multicolor, exchanging the thin acrylics she has used in the past to supplement her single- or two-tone wax for a broader palette supplemented with mica and metal leaf. Gridded configurations featuring deconstructed circles predominate.
A Little Moonlight (2018), a large four by four grid, is characteristically punchy and rhythmic, playing light against dark and shiny against matte. A metallic blue quarter circle provides extra swing with its arcing brushwork, offsetting the flatness of the other shapes.
Brockman's work here follows a trip to Iceland, where the artist was struck by the permeability of the earth. Volcanoes make a literal appearance as simplified silhouettes, gold "lava" accenting purples and black - nature embedded in geometry.
| | |
| --- | --- |
| Exhibition | Domenica Brockman |
| Start date | 04 Jan 2019 |
| End date | 28 Jan 2019 |
| Presenter | Community Arts Partnership ArtSpace link |
| Venue | 171 E. State/Martin Luther King Jr. Street, Ithaca, NY, USA map |
| Image | Domenica Brockman, Pinwheels, 2018, encaustic on multiple wood panels, 28 x 24, courtesy of the artist |
| Links | Reviews of current exhibitions near this one |
| Share | Facebook, Twitter, Google+ |