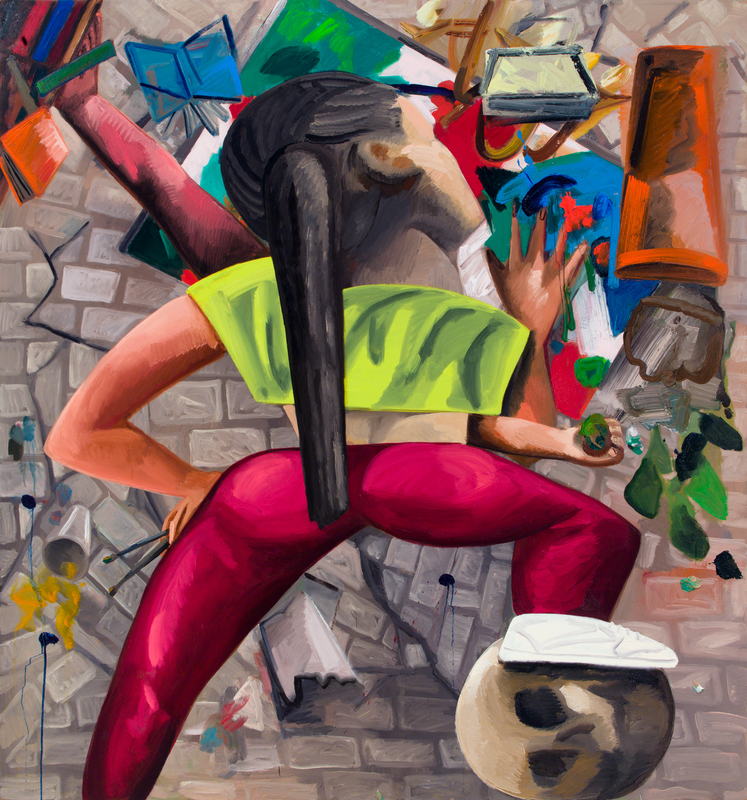 30 Jan 2019
Dana Schutz: Imagine Me and You
Petzel
Reviewed by Franklin Einspruch
"Dana Schutz: Imagine Me and You" implies that she might have been a sculptor all along. Her bronzes appear for the first time, cordoned off in a separate room where they have no opportunity to upstage the paintings. They only view well from one or two directions (okay, maybe a relief sculptor) but Buddy and Smoker (all are 2018) coalesce undeniably in their oddness.
Gone are the intense palette and misapplied Cubism that filled her 2017 show at the ICA/Boston with 18-foot spans of prismatic nonsense. For the paintings at Petzel she has darkened and neutralized her colors, and has simplified her spaces so that figures, however distorted, can cavort through them in a conventional manner. Light falls upon forms in a way that lets her model them, at which she is skilled, as the two-pontoon derriere of the artist in Painting in an Earthquake testifies.
The sculptural approach doesn't solve all of her problems - the pictures are still often irresolute in places, or flip all the way through - but it solved her worst ones. This is a much stronger exhibition.
| | |
| --- | --- |
| Exhibition | Dana Schutz: Imagine Me and You link |
| Start date | 10 Jan 2019 |
| End date | 23 Feb 2019 |
| Presenter | Petzel link |
| Venue | 456 West 18th Street, New York City, NY, USA map |
| Image | Dana Schutz, Painting in an Earthquake, 2018, oil on canvas, 94 x 87.5 inches, courtesy of Petzel |
| Links | Reviews of current exhibitions near this one |
| Share | Facebook, Twitter, Google+ |