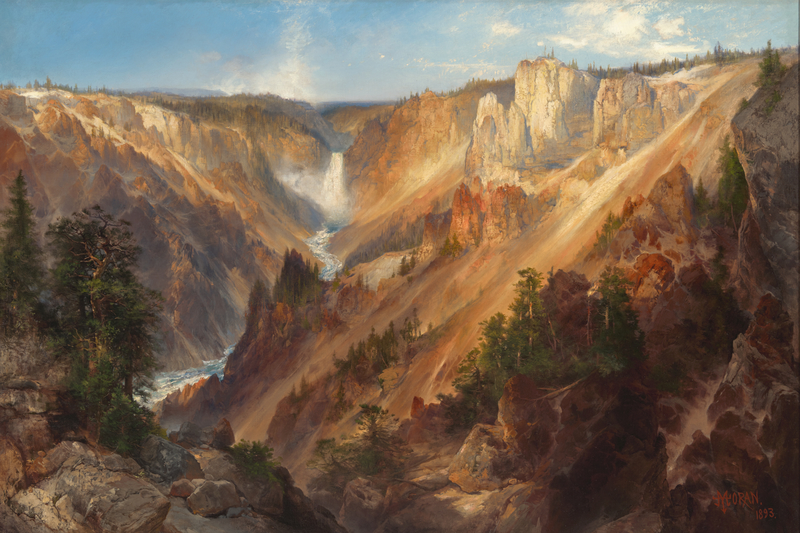 04 Feb 2019
Nature's Nation: American Art and Environment
Peabody Essex Museum
Reviewed by Franklin Einspruch
"Nature's Nation" is timely, urgent, and related adjectives for which people reach when they take up art as a means, having given up on it as an end.
Its central conceit, the indigenous person living in a state of elevated continuity with nature, was discarded by most scholarly fields decades ago as reductionist. But oriented thus, what sets out to be an environmentalist show instead turns into an identitarian one. The label for Thomas Moran's Lower Falls, Yellowstone Park (1893) upbraids it for "limit[ing] popular conceptions of nature" to a "narrow range of places" and uses it to recall the eviction of the natives from the region. The same subject painted by African-American artist Grafton Tyler Brown is contrasted as a "more intimate, accessible view of the falls" (though worthy, it isn't, it's just smaller), with no mention of the sad history of the park.
The curators apply this obsession with identity throughout, and the result tastes medicinal. It does nothing to clean the environment, but it does much to pollute the discourse. The art, all of it, deserves better.
| | |
| --- | --- |
| Exhibition | Nature's Nation: American Art and Environment link |
| Start date | 02 Feb 2019 |
| End date | 03 May 2019 |
| Presenter | Peabody Essex Museum link |
| Venue | 161 Essex Street, Salem, MA, USA map |
| Image | Thomas Moran, Lower Falls, Yellowstone Park, 1893, oil on canvas, © Gilcrease Museum, Tulsa, Oklahoma |
| Links | Reviews of current exhibitions near this one |
| Share | Facebook, Twitter, Google+ |