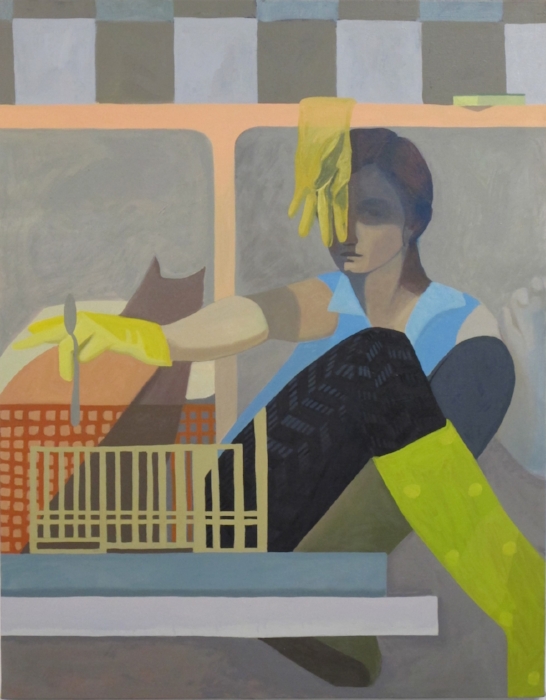 05 Feb 2019
Sarah Lubin
Nancy Margolis Gallery
Reviewed by Xico Greenwald
In paintings as quiet as a college library, Sarah Lubin creates figural compositions of students in and around campus. Working on a laptop or reclining on the quad, Lubin's coeds are frozen in time, rendered as classical statues with thin layers of wispy gray paint.
With their overlapping, resized forms, the paintings have a collage-like appearance reminiscent Neo Rauch's pictures. Often Lubin places a large element in the extreme foreground, a shopping cart or a forearm, that both serves a compositional purpose and plays a role defining a stacked, compressed space.
These moody canvases also recall Pittura Metafisica. Like de Chirico, Lubin incorporates classical busts into her eerie compositions. Backpack-wearing students morph into marble in Early Registration (2018). The Spoon, also 2018, seems to quote the empty glove in de Chirico's The Song of Love. Here a hanging yellow rubber glove obscures a woman's face as she sits to load the dishwasher, her hand holding a spoon, still as a sculpture of Hestia.