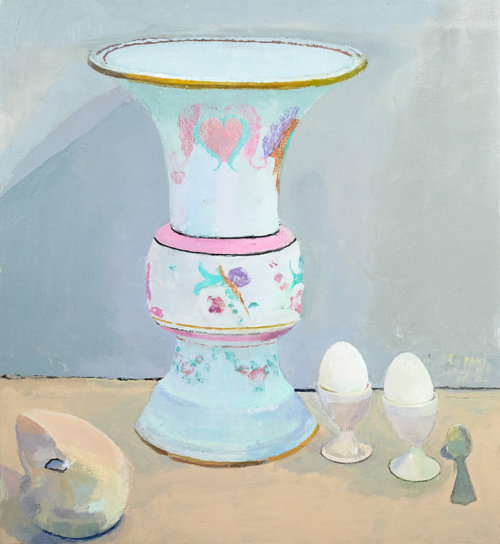 14 Feb 2019
Xico Greenwald: Recent Still Lifes
Painting Center
Reviewed by Alexis Arkus-Duntov
Xico Greenwald's "Recent Still Lifes" at The Painting Center features a collection of new works celebrating the beauty of everyday items. Teapots, vases, and egg cups are rendered in soft, subtle hues that recall Roman wall painting.
The more time one spends looking at these paintings, realistic but not hyperrealistic, careful but not precious, the greater the rewards. There is a universe in the detail with which Greenwald renders the curve of an egg, or the impression of a shadow on the inside of a spoon (Vase, 2, 2018). He gives tremendous attention to the way light hits metal in Copper Pot, Box (2018-19) and changes across its surface.
The thoughtful treatment of negative space becomes an event unto itself. But step back and take in the entirety of the image, and such details resolve into a cohesive, pleasing whole. There is unmistakable movement and vitality in Greenwald's still lifes, and unmistakable joy in looking at them.
Exhibition
Xico Greenwald: Recent Still Lifes link
Start date
29 Jan 2019
End date
23 Feb 2019
Presenter
Painting Center link
Venue
547 West 27th Street, Suite 500, New York City, NY, USA map
Image
Xico Greenwald, Vase 2, oil on canvas over board, 36 x 33 inches, courtesy of The Painting Center
Links

Reviews of current exhibitions near this one

Reviews by Alexis Arkus-Duntov

Share
Facebook, Twitter, Google+